So far 2600 jobs have been created in the past 2 years and an increase of 10% the total amount of chicken produced, with a further R2.4bn investment planned for 2023. However, some beneficiaires report that not enough has been done. Their challenges include VAT, input costs, a consolidated industry and imports.
Let's review each issue:
Imports
Poultry import duties have increased dramatically over the past decade (Offal is currently 31%, boneless portions 42%, bone in portions 62% and whole birds 82%), with additional anti dumping duties imposed at times, as high as 285% over and above. This has lead to a decline of chicken imports (excluding MDM which is not produced in South Africa), which was 8382 tons in September, -16% down year on year.
South Africans consume 39kg's of chicken per person each year or 196 300 tons per month. The South African population is approximately 60.4m people. The average chicken imports per month over the past year is 16 777 tons or 8.5% of total chicken consumption. Some experts believe that there is an additional 15m illegal immigrants in South Africa, which would lower this value to only +/-7% of market share. Poultry importers predominantly sell into the lower LSM butchery segment.
Value Added Tax
The following products currently have zero value added tax:
brown bread
dried mealies
dried beans
lentils
pilchards or sardinella in tins or cans
rice
fresh fruit and vegetables
vegetable oil
milk
eggs
edible legumes.
Fairplay has requested that the national treasury scrapped the 15% on chicken duties to make it more affordable to the lower LSM consumer.
Input Costs
Due to the effects of the covid lockdowns, the intermittent production of goods lead to demand far exceeding manufacturer's ability to deliver on time, creating a shortage and leading to huge increase in commodity and container shipping prices, followed by quantitative easing driving inflation further. The Russian invasion into Ukraine exacerbated this further by reducing the supply for grains and oil, driving up the price of animal feed and energy costs.
South Africa's feed costs accounts for 70% of the production cost. Due to the relatively high levels of import dependency for feed protein, South African feed costs are heavily influenced by changes in international prices. Astral Foods (SA's largest poultry producer) announced that "extraordinary high" feed input costs would tear into its profits in the six months to end-March, sending its shares tumbling 18%, the biggest fall ever.
Load-shedding and every rising energy and fuel costs (up 14% in 2022) have also impacted the cost of poultry production substantially.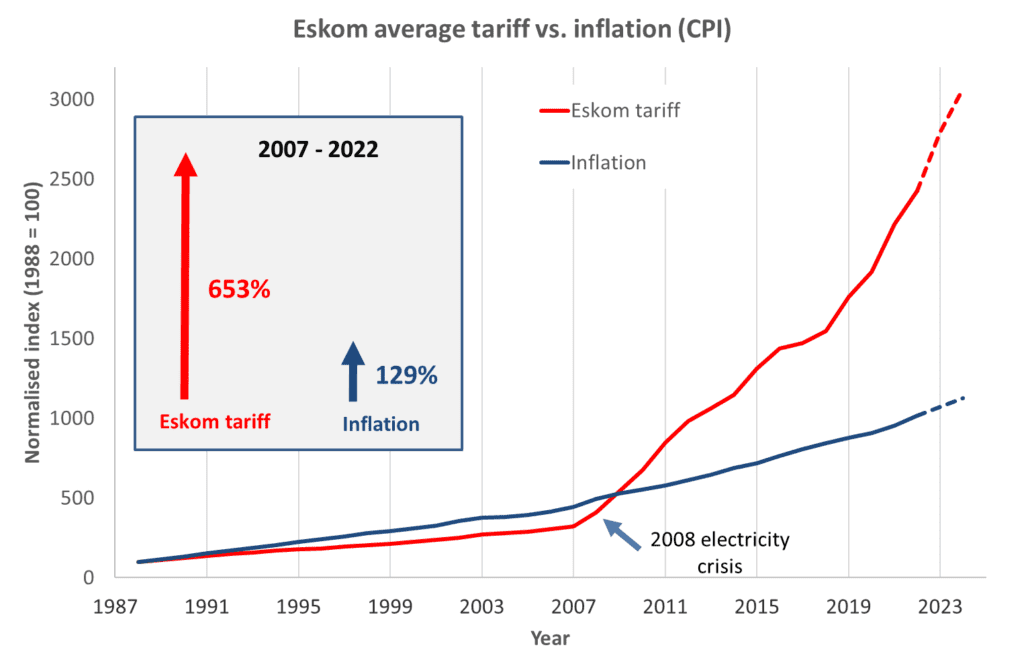 According to Food and Agricultural Organization, the Poultry Meat Index globally is 28.9% more year on year (June 2021 – June 2022). However, due the high prices, demand has fallen recently and producers are having to lower costs to retailers. In the US chicken prices collapsed in the 3rd quarter with an expected production increase of 5% planned for the fourth. Pre-pandemic levels seem to be on the horizon.
South African Poultry Industry
South African poultry is the largest segment of agricultural sector, contributing more than 20% of its share of GDP and 43% of animal product GDP. It is a highly concentrated industry with just 8 commercial producers responsible for over 70% percent of the total broiler production.
Chicken meat production is forecasted to increase by 2% in 2023 as a result of economic recovery, normalization of feed costs, and increased investment by the industry due to anticipated high revenue from market year 2022.
Chicken meat consumption is expected to increase by 2% in 2023, Imports are forecast to increase by 3% percent in 2023 to meet local demand as global exportable supplies recover and increase by 4%.
Conclusion
Many factors need to be taken into consideration to get a clear view of the industry and the factors that affect its performance.
Read: Bird flu, feed shortages, poultry industries collapsing & inflation