Sponsored By

Insightful business news that respects your time and intelligence.
The Daily Upside is a business newsletter that covers the most important stories in business in a style that's engaging, insightful, and fun. Started by a former investment banker, The Daily Upside delivers quality insights and surfaces unique stories you won't read elsewhere.
Protein Trade Report
Animal Feed
The anticipated joint venture between ForFarmers and Boparan could lead to farmers paying higher prices to feed their poultry, the CMA has found. Between them, the firms operate 19 mills across the United Kingdom.
Animal feed protein industry is expected to register 3.5% CAGR between 2023 and 2032, rising livestock production is likely to drive the industry growth.
Poultry & Eggs
The outlook for most poultry markets worldwide in 2023 is positive, according to the latest poultry report from Rabobank. However, feed, energy, labour issues and bird flu will continue to cause volatility.
Read: Positive news from Rabobanks 2023 poultry forecast
Egg prices surge across the United States as Bird flu continues to spread and has killed tens of millions of chickens and turkeys this year across nearly all 50 states. There is currently a nationwide egg shortage.
Highly pathogenic avian influenza cases recorded in Europe among poultry and water birds have risen higher since summer according to the latest report by EFSA. The ongoing epidemic is the largest ever in Europe. 3,867 detections in wild birds have been notified in 37 European countries. Some 50 million birds were culled in affected farms.
Import of poultry products from France to Jordan is suspended.
Chicken prices have soared to all-time highs in parts of Pakistan with whole chickens being sold between Rs320 to Rs330.
The Poultry Association of Nigeria has elected Mr Sunday Ezeobiora as its new National President.
The Edo state government, in collaboration with Amo Farm Sieberer Hatchery Limited and Heifer International, said 500,000 small poultry farmers will be empowered through improved poultry production by 2030. Governor Godwin Obaseki made the announcement at a groundbreaking ceremony for the Amofarms poultry farm, which will support 10,000 per day. Edo to empower 500,000 Poultry farmers by 2030.
Read: "Ghana, impose high tariffs to deter poultry imports" Victor Oppon Ajay
The state owner chicken farm in South Africa, Daybreak's employees affiliated with the Food and Allied Workers Union (FAWU) are demanding a 33.3% wage increase, but the company is offering them 7%.
Red Meat & Dairy
According to the 2022 report "The Power of Meat" by 210 Analytics, the major factors developed markets meat purchasing decisions were product quality/appearance at 60%. A combination of price and quality 48% and purely price 39%. The next two factors were nutritional content 25% and statements like 23% organic, grass-fed, antibiotic-free etc.
Read: How Covid changed consumer meat purchasing patterns
The worldwide meat products market increased 7.4% on a YoY basis to reach $865 billion in 2022. Due to the rising demand for meat.The meat market is expected to reach $1,345.9 billion by 2029, growing at a 5.7% CAGR from 2022 to 2029.
The meat industry is going through major upheavals. For example, a dramatic rise in the number of consumers preferring vegetarian food has forced companies to develop plant-based meat products. Companies like Impossible Foods and Beyond Meat are revolutionizing how we consume meat. The Good Food Institute reported a 27% rise in these products' sales in the US.
During October, the UK imported 21,100 tonnes of fresh and frozen beef, up 14% compared to September volumes, but 9% lower versus October a year ago. Fresh Irish beef imports totalled 12,500 tonnes, up nearly 3,000 tonnes (29%) on the month. Shipments halved from Germany to 600 tonnes, while other EU suppliers including Poland also sent less to the UK. UK fresh and frozen beef imports for the year-to-date (Jan-Oct) stood at 193,000 tonnes, down 1%.
Meat inflation in South Africa reached its highest level in 14 months at 10,5% year-on-year,according to FNB Agri-Business.
Read: South African meat is as much as 70% cheaper than international prices
Tyson Foods announced that Brady Stewart will become group president of Tyson Fresh Meats at the start of 2023. He most recently worked with Smithfield Foods Inc. as its chief operating officer.
USA Today reported this year has brought over a dozen climate disaster events with losses exceeding $1 billion, according to the National Oceanic and Atmospheric Administration. US beef slaughter is up 13% nationwide and in the Texas region, it's up 30%.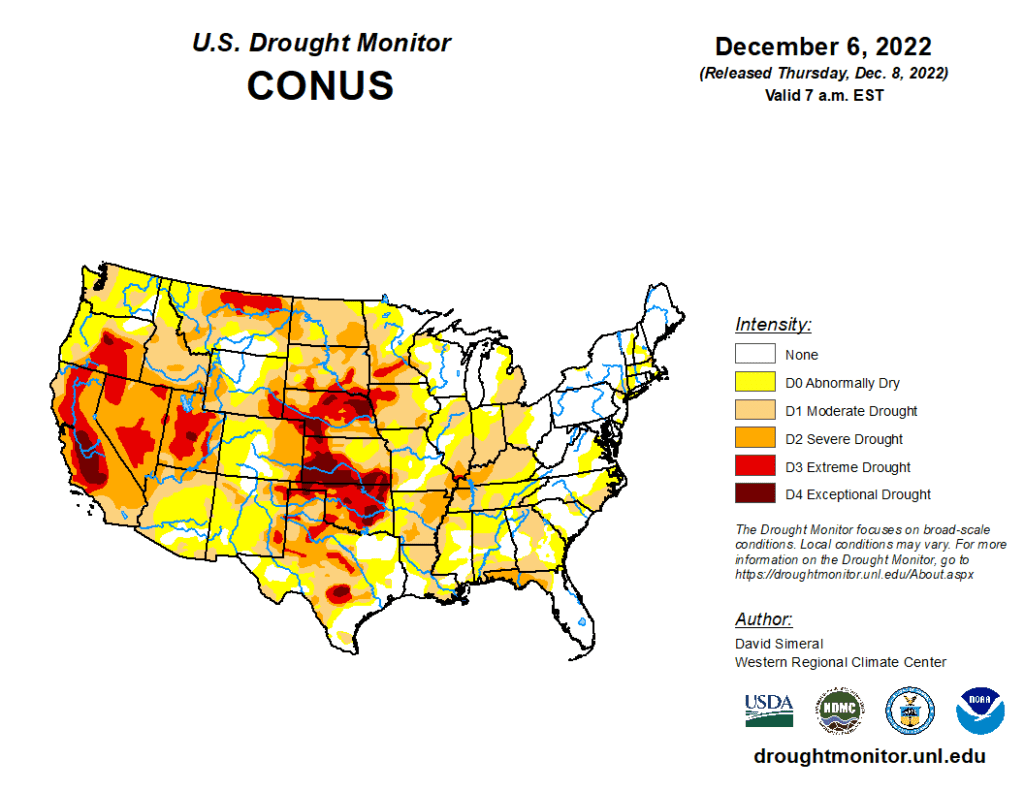 Philippine President Ferdinand Marcos Jr approved an extension of the reduced tariff rates on pork and other commodities due to persistent inflation.
Pork prices in China have fallen rapidly in recent weeks. Official data showed the country's pork prices registered a week-on-week decline from December 12 to 16, down 11.1 percent from the prior week. The price was still 19.6 percent higher year on year, but down 7.5 percentage points from a week earlier.
In the US, pork costs increased 27% or $17/carcass cwt in 2021 compared to 2020. Costs increased 18% or $15/carcass cwt in 2022 compared to 2021 (According to the Iowa State University model).
Seafood & Aquaculture
A recent international study found 60% of consumers across the globe avoid buying fish that comes wrapped in plastic. The study, which surveyed 15,000 consumers across 15 countries, found that 60 percent of consumers avoid buying fish that comes wrapped in plastic. In addition, 70 percent of those surveyed believe it is important that seafood comes in recyclable packaging.
Vietnam took in USD 10.17 billion (EUR 9.57 billion) from its seafood exports between January and November 2022, a 27.4 percent year-over-year increase, meeting the country's long-sought-after goal. Vietnam has surpassed USD 10 billion (EUR 9.4 billion) in seafood exports thus far in 2022, reaching an all-time high for the country, thanks to a post-Covid recovery in global demand.
Virginia's seafood industry accounted for $1.1 billion in total value to the state in 2019, counting itself as the top US oyster producer on the East Coast in a new Virginia Seafood Agricultural Research and Extension Center.
Norebo, Russia's largest seafood company, has carried out a reduction in share capital which sees just under £18m transferred from its UK entity to another group firm in Hong Kong.
Chilean fish and seafood exports increased to $828 million in November, up by 21.5% year-on-year, boosted by higher sales to US, Japan, Mexico, according to ProChile.
Moana, New Zealand's largest Maori-owned seafood firm, reported a positive profit result in a challenging operating year, but it's 50% share of Sealord's earnings was down 64%.
A $1.7 trillion US government funding bill Congress is reviewing for 2023 has a US House Subcommittee for Commerce, Justice, Science, and Related Agencies published a report "promoting seafood on a national scale may lead to increased seafood consumption and a stronger seafood industry" requesting the creation of a National Seafood Council.
Read: European Maritime, Fisheries and Aquaculture Fund 2021-2027
Plant Based & Cultivate Meat
Believer Meats has broken ground on the world's biggest cultivated meat factory. The US-based facility will be able to produce at least 22 million pounds of meat annually.
The Good Food Institute reported a 27% rise in "alternative" meat product sales in the US in 2022.
The plant-based meat market is expected to exceed $15.7 Billion by 2027. Consultants at McKinsey forecast the cultivated lab based meat category to be worth $25bn by 2030 while Barclays predicts it will be valued at $450bn by 2040.
Read: Why are Brazilians eating less meat?
Sales of frozen plant-based seafood alternatives at US retail outlets reached about $800,000 in November, 10 percent lower than sales in November 2021, according to new IRI supermarket sales data compiled by 210 Analytics.
Two thirds (67%) of European consumers see plant-based dairy as complementary, not a substitute to dairy products, and 'an opportunity to try something new' (65%), new research from ofi shows.
Read: Shipping rates expected to bounce back soon
Container Shipping
Container shipping spot rates have crumbled since the start of the year and in early December Drewry's World Container Index (WCI) was 79% below the peak of $10,377 reached in September 2021.
Alphaliner on 5 December, recorded 261 idle ships, for a capacity of 1.4m teu, representing 5.3% of the total cellular global fleet. Now as volumes have slackened and spot freight rates tumbled there have been forecasts that carriers would begin dramatically cutting back on capacity further by blanking sailings and laying up vessels for an extended period.
However, if blanking and 'sliding' strategies continue to be ineffective in preventing falling freight rates from bottoming out, carriers may be forced to consider temporarily suspending more services and laying-up owned fleets.
Read: Shipping rates expected to bounce back soon