In association with Finny
Finny sends you free personal finance insights regarding top money trends, personal finance, and investing tips.
Feed & Energy Futures
The majority of electricity usage in a feed mill is attributed to pelleting (40%), followed by milling (26%), mixing (9%), material handling (6%), and other factors (19%).
Top Listed Dairy Companies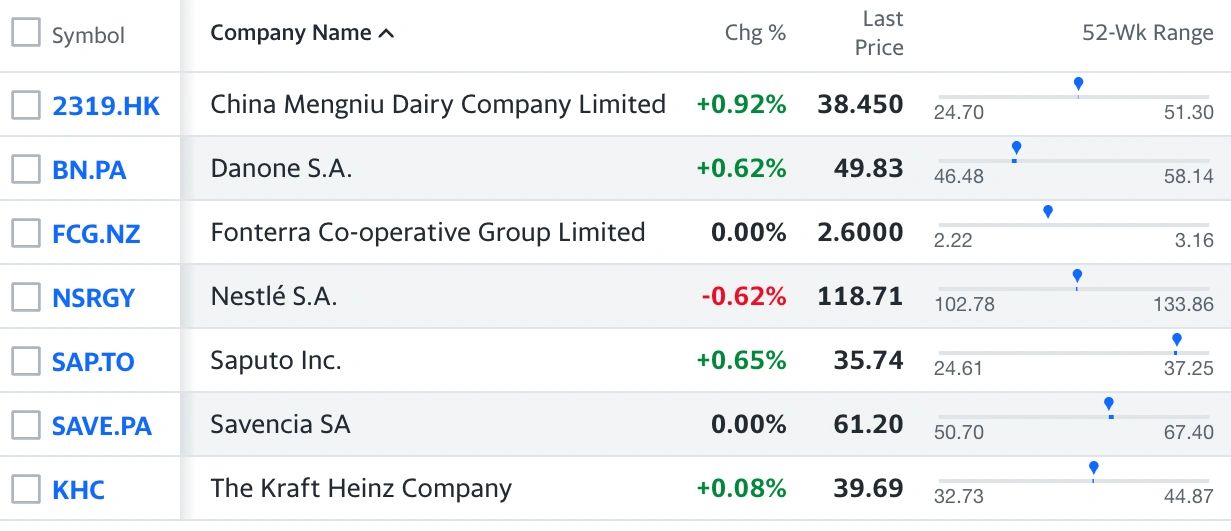 The dairy proteins market is estimated to reach at a value of US 15.4 Bn by the end of 2022 and expected to reach at a value of US$ 20.2 Bn by 2030 with a significant CAGR of 4.3%.
Dairy Company News
Arla
Arla Foods has received seven new Volvo FM LNG trucks to reduce CO2 emissions and meet sustainability targets by 2030. The company chose bio-LNG as the most suitable option for its commercial vehicle fleet and opted for Volvo after testing its gas technology. The new trucks will collect and deliver milk from farms to processing sites and help Arla achieve its target of reducing CO2 emissions by 63% from 2015 levels. The trucks perform similarly to diesel trucks and will refuel at two Gasrec sites. The FM LNG trucks replace diesel units in Arla's fleet.
ByHeart
ByHeart, a New York-based infant formula maker, has acquired its third facility to triple its production capacity to meet the demand in the US market. The facility was bought from DairiConcepts, a subsidiary of Dairy Farmers of America. ByHeart also has a plant in Pennsylvania and a packaging and blending facility in Oregon, with a total capacity to produce formula for 500,000 infants annually. The acquisition will increase the supply of infant formula and prevent future shortages in the US. The US market faced shortages last year due to a product recall and closure of an Abbott Laboratories factory. ByHeart aims to improve the infant formula supply chain in the US and serve as an example for industry evolution.
Danone
Danone partners with EDF to reduce methane emissions in dairy by 30% by 2030, built on prior 14% reduction from 2018 to 2020. First food co. to set methane reduction target and report emissions as part of financial disclosure.
Fonterra
Fonterra, a New Zealand-based co-operative, has added its first electric truck to its fleet, the Volvo FL Electric truck, to reduce its scope-one emissions. The company's goal is to have over 300 light vehicles be electric by 2023. The truck has a range of 200 km per charge and is powered by a 135 kW electric motor. Besides the truck, tools, expertise, and infrastructure are essential for New Zealand's transition to sustainable transport, according to Paul Illmer, VP of emerging technology business development at Volvo Group Australia.
Unilever
Hein Schumacher has been appointed as the new CEO of Unilever, succeeding Alan Jope who plans to retire. Hein is currently the CEO of Royal FrieslandCampina and has extensive experience in the consumer goods industry. He will start his role at Unilever on July 1, 2023 after a one-month handover period. The Chairman of Unilever, Nils Andersen, expressed excitement for the appointment and thanked Alan Jope for his leadership. Hein expressed his excitement to lead Unilever and his focus on improving business performance.
Top Listed Meat Company News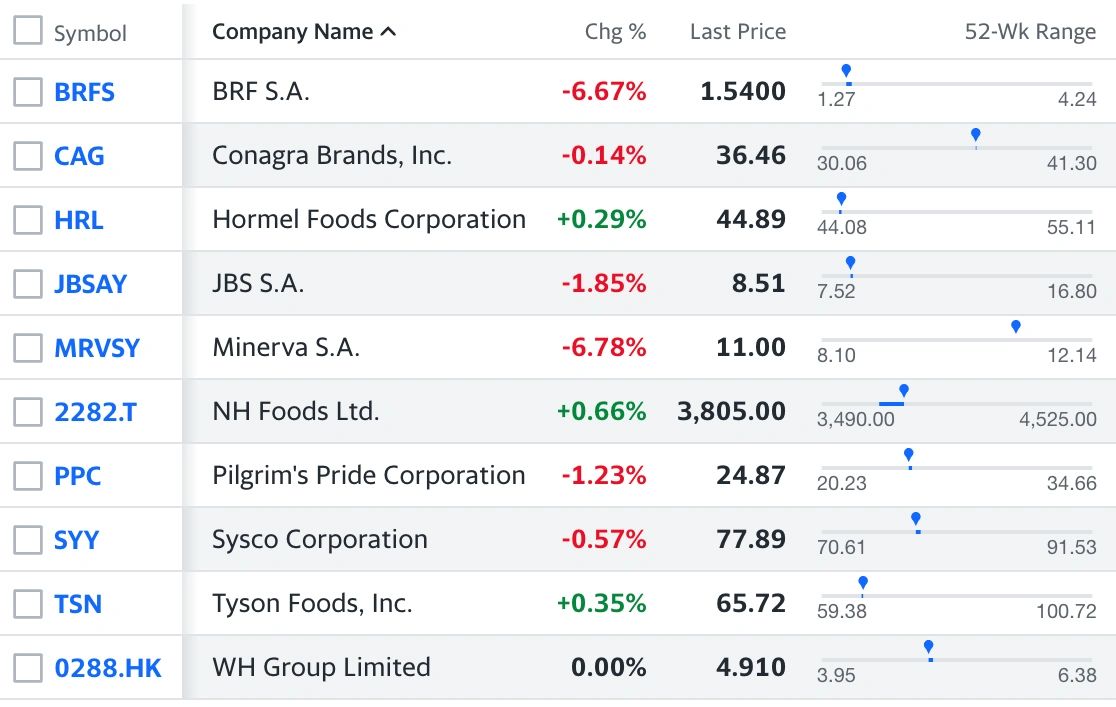 This year's bird flu outbreak in the US is the worst in history and has caused a rise in poultry prices, making eggs more scarce. The virus has also sickened people, albeit in small numbers, with a mortality rate of over 50% among humans. Experts warn of the potential for the virus to spread from birds to humans and from humans to other humans, leading to a global influenza pandemic. Read: Experts raise concern over the possibility of avian flu leading to another pandemic
Meat Company News
Cargill
Cargill has some upcoming marketing meetings including an update on the Sidney expansion, market outlook, Marketing 201, and RegenConnect. The meetings will be: Feb. 7, 2023 at 5:30 p.m. at Romer's Catering 1100 S Main St. Celina and Feb. 9, 2023 at 5:30 p.m. at Young's Jersey Dairy Conference Center 6880 Springfield Xenia Rd Yellow Springs.
Conagra
Brandon Headlee has been promoted to senior director of food safety at Conagra Brands, having been with the company for 26 years and previously serving as director of quality. He holds a bachelor's degree in biology and a master's degree in business administration, both from different universities.
Danish Crown
Danish Crown, one of the largest pork exporters in the world, is closing offices and reducing its workforce due to a decline in meat sales in the European Union. The company stated that the increase in China's hog population and rising inflation have impacted its sales. The company is making cost-cutting measures as the high demand and prices from a few years ago have diminished, leading to a decrease in exports and consumers who are not buying as much.
Marfrig
Marfrig Global Foods S.A. (BVMF: MRFG3) has seen a significant drop in its stock price, down 64% from a year ago and 29% over the past three years. The stock price has recently taken a hit, declining 26% in the last 90 days. The EPS (earnings per share) has improved by 23% over the past year, despite the drop in stock price, which could indicate that the share price was previously overhyped. The recent reduction in dividends might also be contributing to the weak stock price.
Omaha Steaks
Omaha Steaks is offering up to 55% off on its products during its Stock Up & Save deal. Products include filet mignons, NY steak strips, steak burgers, butcher's stock up assortments, custom assortments, and more. Shoppers can receive extra discounts ranging from $10 to $30 and free shipping on orders over $169. The sale includes a variety of meats, vegetables, and desserts.
Perdue
Perdue Farms and GreenGasUSA have partnered to upgrade the Lewiston, North Carolina facility. GreenGas converts waste into RNG, and the two companies collect methane from Perdue's wastewater to convert into RNG which is stored in GreenGas' pipeline. In 2 months, they collected 10,500 metric tons of CO2e, reducing Perdue's carbon emissions by 17%. Perdue has also taken on other sustainability projects like solar panels, recycling poultry litter, and planting oysters. The project has been a successful partnership for both companies showing their commitment to sustainability.
Tonnies
The largest pig farm in Lower Saxony was exposed for animal cruelty by the German Animal Welfare Office 2 years ago. Footage showed pigs living in overcrowded, unsanitary conditions with untreated injuries and diseases, as well as dead animals among the living. The operator intentionally cut off the pigs' water supply for faster fattening, a prohibited practice. Lack of proper inspections allowed these violations to occur despite the farm being QS-certified. The veterinary office filed a criminal complaint and penal orders were issued against two parties, with a hearing scheduled for January 31, 2023. The main buyers of the pigs, Tönnies and Vion, stopped accepting them after the abuse was exposed. The German Animal Welfare Office advocates for a vegan lifestyle to end animal cruelty in factory farms and slaughterhouses.
Tyson
Tyson Foods is investing over $20 million in Newbern, Tennessee with expansions in production, a wellness center, and an independent roadway for transportation. The first phase of the project began in 2021 with a barn facility expansion, resulting in a 20% increase in capacity. The next two phases, including separate livestock transport access and a well-being center, are expected to be completed by early 2023. The investment supports Tyson's mission of quality food production and desirable workplace. Tyson Foods has previously completed two major poultry projects in Tennessee.
Tyson Foods has named Wes Morris as the new president of its poultry business, replacing David Bray who is retiring. Morris has extensive experience in poultry and consumer sales, including previous leadership positions at Tyson, and has worked as a consultant for Tyson's poultry business and CFO at Simmons Foods. He holds a bachelor's degree in marketing from the University of Arkansas and has a goal of "feeding the world."
Swaggerty's Farm
Swaggerty's Farm, a US-based sausage company, has achieved the highest AA certification in BRC Global Food Safety Standards for 11 consecutive years. The certification recognizes the company's compliance with the highest level of international food safety guidelines set by BRCGS. The Quality Control Director, Greg McCann, has established a culture of food safety at the company since joining in 2011. The BRCGS standards are widely accepted by top global retailers, restaurants, and manufacturers and cover areas such as senior management commitment, food safety plan, product control, and personnel.
Sysco
Glenmede Trust Co. reduced its stake in Sysco by 4.1% in Q3, as per a SEC filing. It held 74,208 shares after selling 3,140 shares during the period. The value of its holdings was $5.2 million. Other investors, including Vanguard Group, BlackRock, FMR LLC, Victory Capital Management, and Price T Rowe Associates, increased their ownership in Sysco during the same quarter. Institutional investors now hold 81.18% of Sysco's stock.
WH Group
WH Group's share price has fallen 46% over the last five years, despite the company's earnings per share improving by 1.7% annually during the same period. The market may have been overly optimistic about the company's growth expectations in the past, causing the share price to slip. The revenue for the company has increased by 5.1% over the last five years, which suggests that a closer look at the fundamentals is needed to understand the cause of the share price decline.
OSI
OSI Systems has reported financial results for the second quarter of fiscal year 2023, showing revenues of $295.6 million, a 7% increase from the previous year. The company's CEO, Deepak Chopra, stated that the results were solid despite challenges in the economy, and that the Optoelectronics and Manufacturing division had performed well with robust demand from both existing and new customers. The Security division also showed strong growth with a 15% increase in revenues and record bookings. However, the Healthcare division was negatively impacted by market conditions, leading to lower revenues and operating income. The company expects to improve the division by adding new talent and developing new products. Overall, the company has a significant backlog and pipeline of opportunities, leading to strong growth expectations for the remainder of the fiscal year.
Moy Park
Moy Park, a UK poultry and food producer, has partnered with MTech Systems and SAC Consulting's Agrecalc platform to apply a "carbon calculator" that will monitor and track greenhouse gas emissions at each of its farms. This will aid in the company's goal of reaching net-zero carbon emissions by 2040. The calculator uses digital data systems to connect company-wide carbon reduction targets to action on the ground in real time and farm by farm, and it will help management changes and carbon reduction across the company. Moy Park's parent company, Pilgrim's Pride Corporation, has committed to reaching net zero GHG emissions by 2040, including eliminating deforestation by 2035 and converting to 100% renewable energy by 2040.
Perdue
Perdue Farms has donated $5,000 to Agriculture in the Classroom in Virginia through the Franklin P. and Arthur W. Perdue Foundation. The money will be used to design a poster and produce a video that demonstrate the impact of Virginia's poultry industry and the facts about poultry farming. The donation is part of Perdue's Delivering Hope to Our Neighbors® initiative, which aims to improve the quality of life and build strong communities. The goal of Agriculture in the Classroom is to educate students and the public about the ways their lives are touched by agricultural products and by-products, and to emphasize the impact on the communities where Perdue's employees work and live.
Preval AG
A Quebec-based company, Préval Ag, has made a deal to purchase the Alberta lamb processing plant and feedlot of the North American Lamb Company. Préval Ag is a large player in the meat industry, with annual sales of over $720 million and is known for creating or acquiring brands in the agriculture and livestock industry. The purchase, which is set to be completed on January 27th, is Préval Ag's first in Western Canada. The company's motto is "A food industry at the heart of the consumer." The sale is good news for lamb producers, as the Innisfail processing plant is the only federally inspected plant in Western Canada. The new owners plan to encourage lamb production on the Prairies and it is uncertain whether they will revive the former owners' plan to supply fresh lamb year-round. The North American Lamb Company collapsed last summer and owed nearly $53 million to creditors.
Sysco
Sysco Corporation is expected to have strong financial results for the second quarter of fiscal 2023, with analysts projecting an increase in both revenue and earnings. The consensus estimate for revenue is $18,733 million, a 14.8% increase from the same quarter last year. The estimate for earnings per share is 83 cents, a 45.6% increase from the same quarter last year. However, it should be noted that Sysco has had a mixed track record of meeting or exceeding earnings expectations, with an average surprise of 3.7% over the last four quarters, but a negative 2% surprise in the last reported quarter.
Tyson Foods
Wes Morris has been appointed as the new president of Tyson Foods' poultry business. Morris has over 35 years of experience in the poultry industry and has previously held several leadership positions at Tyson Foods, including group vice president of consumer products, and president of prepared foods operations. He retired from Tyson Foods in 2017 but has since returned to work for the company as a consultant in the poultry business. Morris will be taking over from David Bray, who has been group president of poultry since 2021 and is leaving the company. Morris's appointment is effective January 27th.
Over 1000 free copies downloaded in the first day!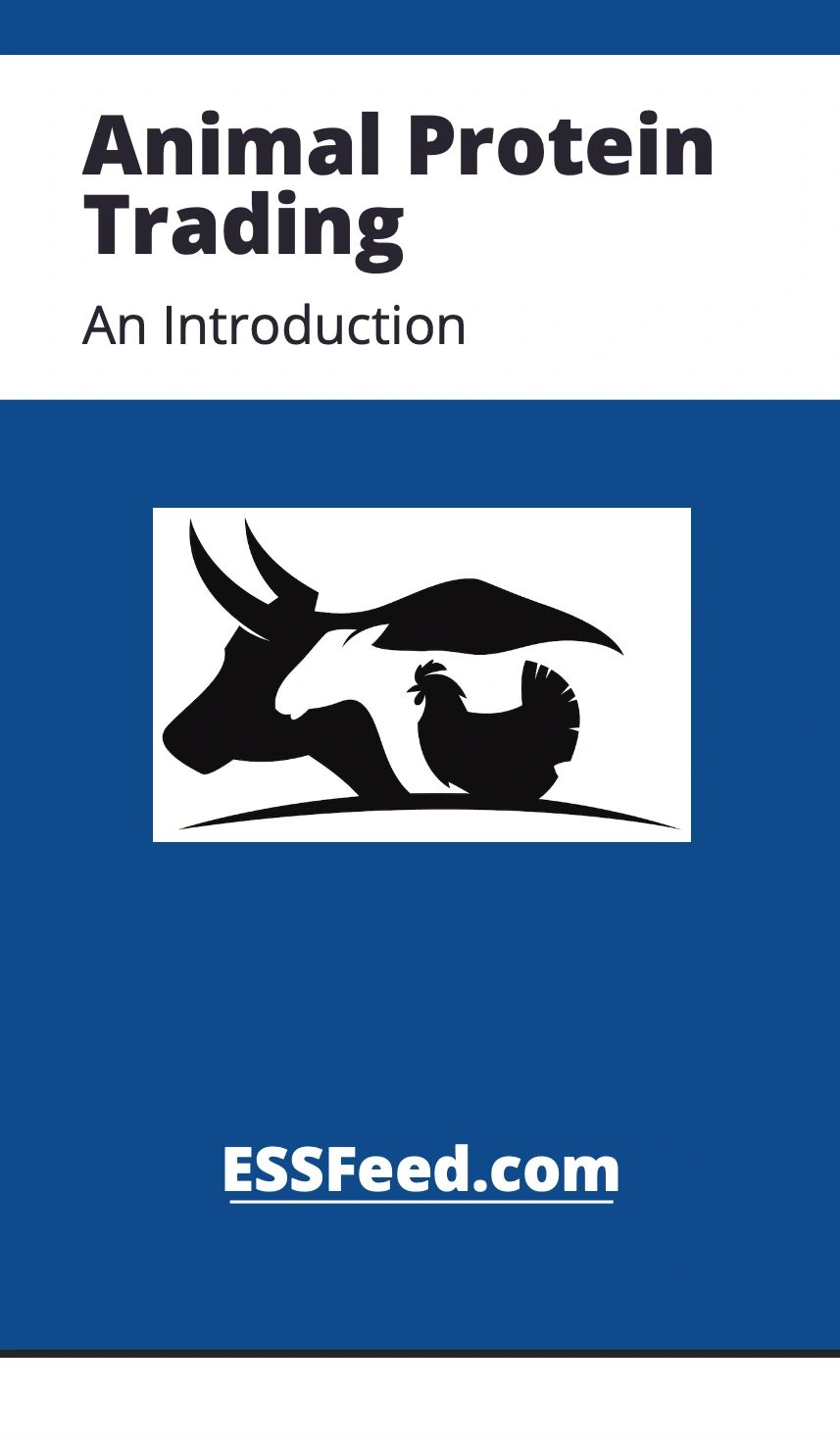 Top 10 Listed Seafood Companies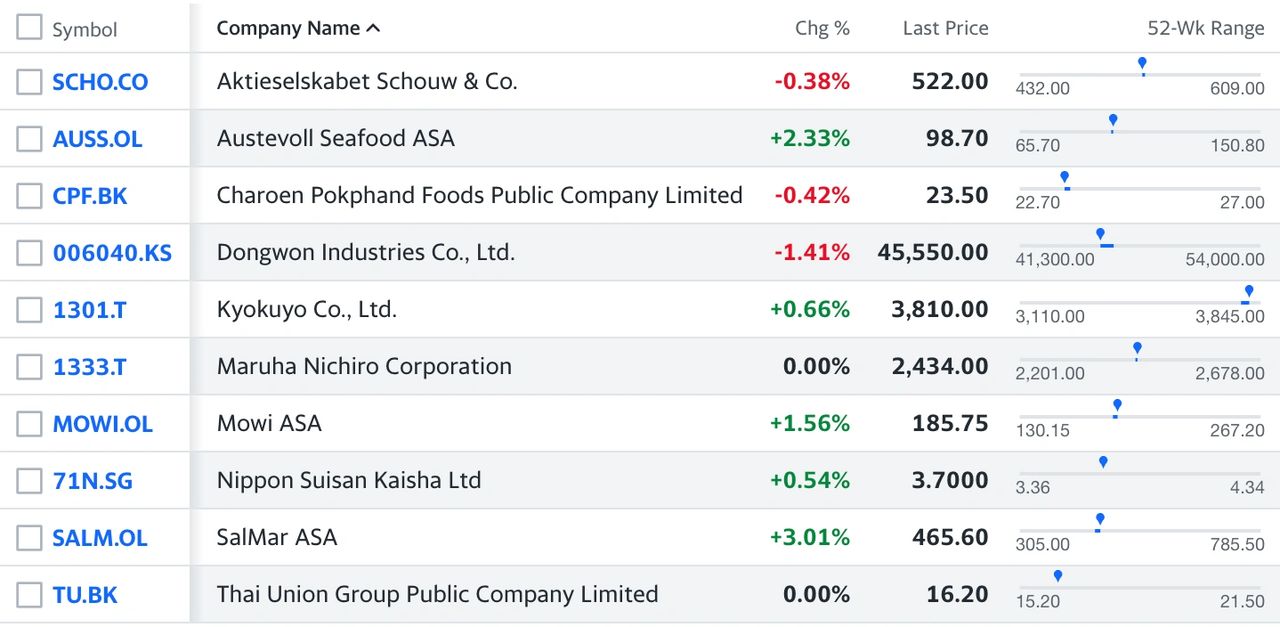 The global aquafeed market is projected to grow to USD 85.17 billion by 2028 with a CAGR of 5.59%. This growth is driven by factors such as the popularity of aquafeed, investments in research & development, and the growing seafood trade. The market size was USD 55.71 billion in 2020 and reached USD 58.19 billion in 2021.
Seafood Company News
ISH
ISH, a B Corp-certified company, was founded by Bernard David after a heart attack led him to adopt a plant-based diet. The company offers plant-based seafood and uses a "whole system approach" to analyze its ingredients and ensure their nutritional value. ISH raised $5 million in seed funding and has a partnership with Thai Union for distribution. It plans to expand its product portfolio and focus on market development in Europe and Asia.
Proximar
Proximar Seafood, a land-based salmon firm supported by Per Grieg, announced that its first group of young Atlantic salmon has been successfully moved to the feeding area and is now eating. This is a major accomplishment for the company's production team, which started with the successful incubation of eggs in its Oyama, Japan hatchery in October 2022. Similar groups will be added to the hatchery each month, leading to a steady harvest from 2024. Both the construction and operational aspects of the company are progressing satisfactorily, according to CEO Joachim Nielsen.
Trident
Trident Seafoods fined $25,000 over environmental damage from vessel fire 20 to 30 gallons of hydraulic oil spilled into the Hylebos Waterway.
Lastly, Crabbers in Alaska are striking for better prices and have been inspired by the success of the state's cod fishermen in negotiations. Fishermen in Kodiak are refusing to fish to protest the initial offer of $2.50 per pound by processors, which has been increased to $3.25 but still rejected. The Kodiak fleet is negotiating with several seafood processors to try to get the price higher. Some vessels might join the ongoing cod season while waiting for a resolution. The Bering Sea cod fishermen also faced low prices this year but held off fishing until processors agreed to increase their offer. The captain of a fishing vessel hopes the fleet can be organized earlier in the future to negotiate with processors and agree on a price before leaving home.
Top 10 Listed Logistics Companies
In 2022, the majority of Asia-Europe vessel deployment was made up of high-capacity vessels, indicating high demand. Container reliability was good in May 2022, but the global freight index is predicted to drop in Q4 due to inflation and weak consumer demand. Congestion at ports in Europe and the US East coast is causing disruptions and cancellations. Exports from Asia are down due to high inflation and political conflict, resulting in high freight rates for carriers.
Chep
CHEP has joined the Global Battery Alliance, a public-private platform that unites businesses, governments, and organizations with the goal of creating a low-carbon, circular battery value chain by 2030. CHEP has over 30 years of experience providing packaging and delivery services to the automotive industry and has been working to reinforce its offering with bespoke packaging and collaboration services as the industry transitions to low-carbon transport solutions. CHEP's addition to the GBA will further support its mission of creating a circular battery supply chain and help the automotive industry reach the goal of having 2 billion electric vehicles on the road by 2050. The GBA and its members align with UN Sustainable Development Goals and the Declaration on Accelerating the Transition to 100% Zero Emission Cars and Vans signed at COP26.
DB Schenker
DB Schenker and MAN are working together to develop fully electric trucks. Alexander Vlaskamp, CEO of MAN Truck & Bus, says the demand for this vehicle is already high, but political support is needed for a sustainable mobility transition in heavy goods transport. This includes support for the charging infrastructure and funding for the purchase of electric trucks. The first MAN eTrucks will be produced for DB Schenker in 2024 and the company plans to gain practical experience with the product and set up its own charging infrastructure. MAN is providing 360-degree consulting support for DB Schenker, including route analysis and charging strategy. The eTrucks will be volume semitrailer tractors, with ten to be delivered to DB Schenker in 2024. Other trucks will be delivered in 2025 and 2026 as ultra-tractor units and swap body trucks. The production of the eTrucks has been prepared at MAN since 2021 and the company is investing 100 million euros over the next five years to produce the high-voltage batteries in Nuremberg. The Bavarian state government is providing support with a contribution of 30 million euros to energy research and technology funding.
DHL
DHL Global Forwarding has partnered with Grundfos to reduce the carbon footprint of the company through sustainable logistics solutions. DHL is providing GoGreen Plus services to the world's largest pump manufacturer, helping decarbonize their ocean and air freight shipments. Both companies are committed to sustainability and aim to become carbon neutral. The partnership aims to reduce carbon emissions in ocean and air freight shipments, and also stimulate the freight industry to invest in a sustainable future. GoGreen Plus Emissions Reduction Service focuses on reducing Grundfos' carbon emissions in ocean freight and air freight transportation. Last year, a pilot project aimed at reducing carbon emissions in air freight was launched and was successful in cutting emissions through the use of Sustainable Aviation Fuels.
Hapag Lloyd
Investing in high-quality companies for the long term can result in significant gains. For example, Hapag-Lloyd's stock price has increased by 506% over 5 years, and 14% in the past month. This recent increase may be due to favorable market conditions, but it is important to assess the underlying fundamentals to determine the longer-term outlook. EPS growth of 210% per year was achieved during this period of stock price growth, which is higher than the average 43% annual increase in the share price. This suggests that investor attitudes towards the company may have changed, and the low P/E ratio of 2.14 reflects market caution. According to Benjamin Graham, in the short-term, the market behaves like a voting machine, but over the long-term it acts like a weighing machine.
Knight Swift
Knight-Swift Transportation Holdings had a decrease in revenue and earnings during the last quarter of 2022, according to a report on Jan. 26. The trucking company had net income of $148.7 million and 92 cents per diluted share for the three months ending Dec. 31, which was lower compared to the previous year's $254.6 million and $1.52. The total consolidated revenue also decreased by 4% to $1.74 billion from $1.82 billion. The results did not meet the expectations of Wall Street, which was looking for $1.13 per share and $1.78 billion in quarterly revenue. Despite this, the CEO, David Jackson, still sees the first quarter as being seasonally soft but with a chance of improvement sequentially. He attributes the decrease in revenue to the holiday shipping season starting earlier than usual for customers.
Major Currency Pairs
Dow Jones futures fell Monday morning, along with S&P 500 futures and Nasdaq futures, signaling a pullback after big gains in recent days. The stock market rally cleared some major resistance last week. The major indexes had solid gains, responding bullishly to uneven earnings reports and economic data. Leading stocks acted well, with breakouts and buy points continuing to work. The Federal Reserve holds its policy meeting this coming week, with another rate hike expected on Feb. 1.
Join 45,000+ investors discovering new market trends and ideas. Become a better investor with our free 4x-weekly newsletters.