In association with Tech Brew
Join over 450K people reading Tech Brew. We provide free tech knowledge that'll help you make more informed decisions.
Following a successful proof of concept (POC), JBS USA is partnering with Völur to use its AI technology to increase the value of each carcass and meet customer demands. Continue to article.
Futures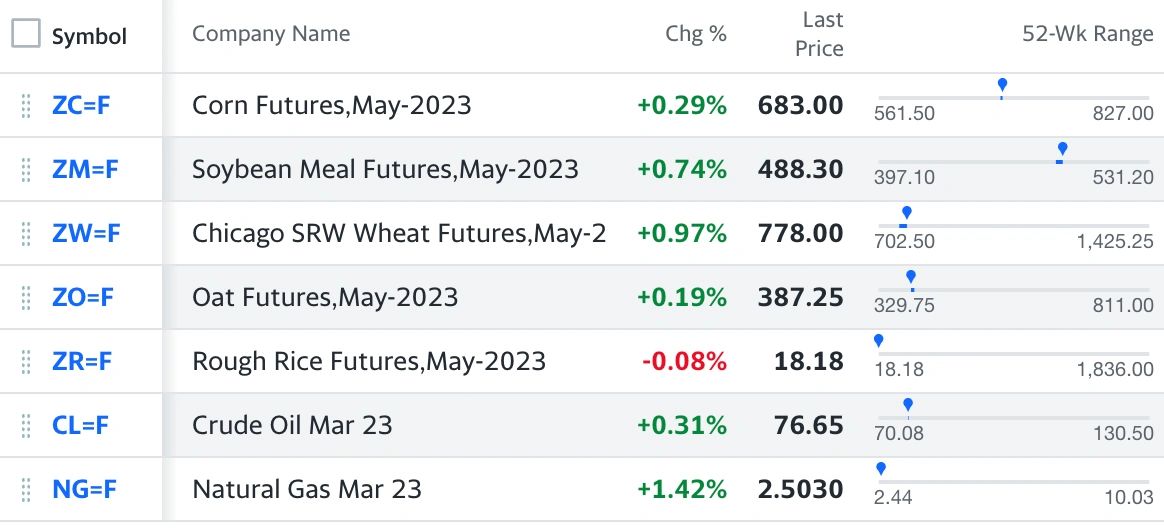 Markets remain mixed following Fed decision, bitcoin and commodity prices move lower. Oil climbs as dollar slumps, OPEC+ keeps output cut policy. All three major U.S. indices end Wednesday in positive territory.
Top Listed Dairy Companies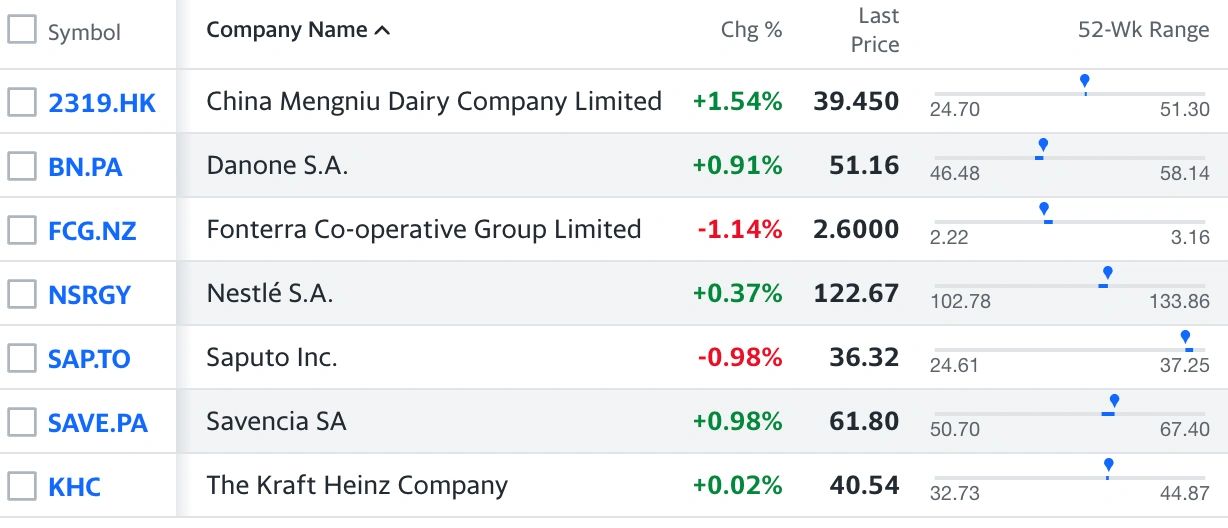 Arla Foods is anticipating a significant decrease in the cost of dairy products in the UK in 2023. The CEO expressed confidence that the cost pressures faced by farmers have now passed, which could result in lower prices for everyday food items.
Dairy Company News
Arla
Arla Foods has lowered its milk price below 50p/liter due to declining wholesale milk and dairy commodity prices, putting pressure on returns to farmers. The on-account farmgate milk price will decrease by 2.65p/liter starting February 1st for both conventional and organic milk. The price for a standard manufacturing liter of 4.2% butterfat and 3.4% protein will drop to 48.47p/liter. Arla's organic producers will be paid 53.25p/liter in February. The company attributes the decrease to consistently high inflation reducing consumer demand, causing an increase in milk volumes in the commodity market and a reduction in commodity prices. Arla remains committed to finding ways to deliver value to its farmer-owners' milk despite the declining commodity market and farmers facing significant input costs.
Danone
Danone is considering selling its Horizon Organic and Wallaby brands, which represent 3% of the company's global revenues and offer organic dairy products like milk, yogurt, cheese and butter. The CEO, Antoine De Saint-Affrique, has announced a review of the company's portfolio and wants to focus resources on priority growth areas. The brands had a negative impact on Danone's sales growth and recurring operating margin in 2022. Danone may find potential buyers among private equity firms or Lactalis, which has a strong presence in the organic category after purchasing Stonyfield in 2017.
Fonterra
EROAD, a transportation technology services company, has acquired a significant enterprise customer in New Zealand, the Fonterra Co-operative Group. Fonterra will install EROAD's fleet management hardware across its 500+ milk tankers, and the contract will last five years. EROAD is also installing high-definition dashcams to gather evidence in case of incidents, as well as hardware to mitigate the risk of roll-over events. The installation of EROAD across the Fonterra fleet is set to begin in mid-February.
Lactalis
Lactalis UK & Ireland has improved the recipe and rebranded its cheese nuggets, now named Seriously Crispy Melts, which combine Scottish cheddar with mozzarella in a light, crispy rice-based coating for a "meltier cheddar center" and a "gooey texture". The new product will be supported with a marketing campaign on Shopmium, offering 50% off the product in certain supermarkets during February.
Nestle
Nestlé is investing $100 million in its Colombian production over the next three years as part of an agreement with the Colombian government. The funds will be used to expand production capacity, advance cultural transformation and innovation, and ensure the sustainability of the business. The new production line for Milo will receive an investment of $10 million, increasing capacity by 40% and exports by 15%. The investment will be spread among companies in which Nestlé has a majority stake. The CEO of Nestlé Latin America, Laurent Freixe, said the company believes in Colombia's potential and the investment will not only strengthen its product portfolio and the industry, but align with the government's priorities for employment, human rights, and environmental sustainability.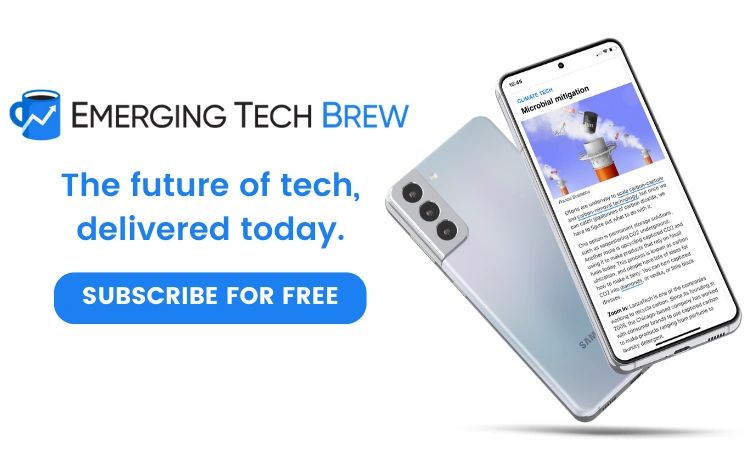 Top Listed Meat Company News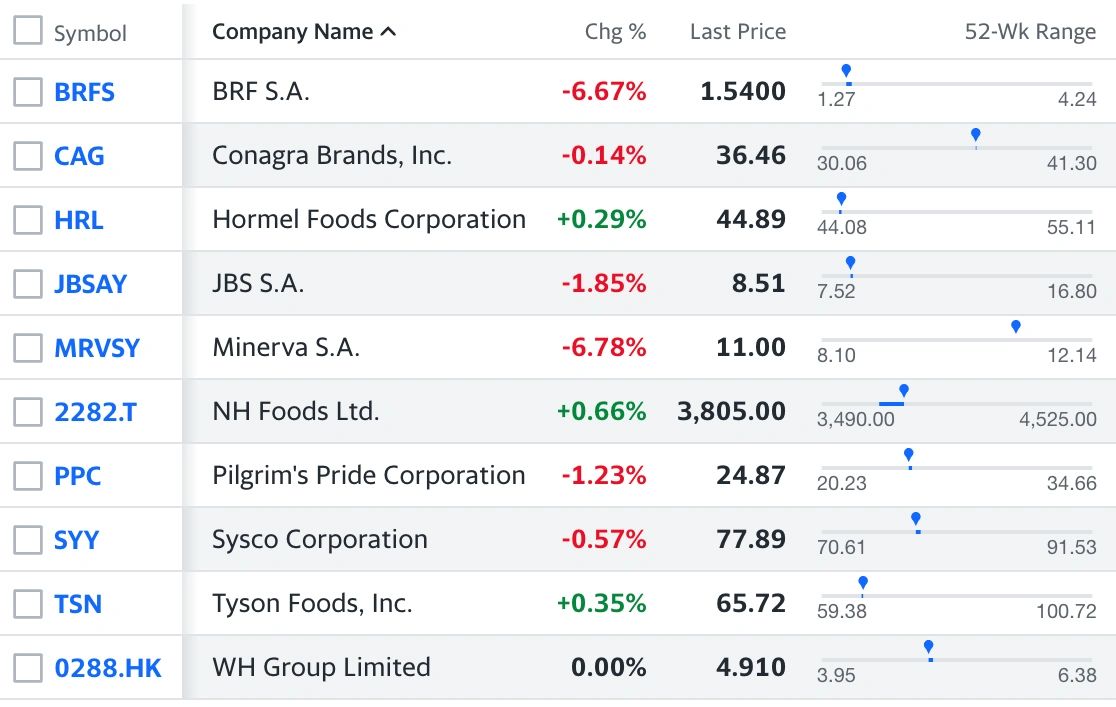 JBS believes that demand for beef in China will increase and that Brazil & the US are well-positioned to meet this demand. Rising per capita consumption, urbanization, rising income, and changes in habits due to the pandemic as factors that will drive this increase in beef consumption. Their CEO also notes that the world will need to produce 50% more food by 2050 due to population growth and increased global demand.
Meat Company News
Agrosuper
Agrosuper's revenue grew by 4.5% in 2022, reaching $4,179 million, but its profits fell by 52.4% to $194 million according to its consolidated report to the Commission for the Financial Market. The company attributed the decrease in profit to a disrupted logistics chain and changes in its market. Operating costs increased 5.9% to $3,045 million due to higher raw material prices in both the Meat and Aquaculture segments and increased spending at processing plants. Administrative and selling expenses also rose 13.7% to $614 million mainly due to higher freight rates. The Meat segment was the most affected, showing a 41.9% decrease in EBITDA and a 1.3% decrease in income, due to the high cost of raw materials and higher pork production in China and chicken in the US, which are keeping margins limited.
BRF
BRF SA, the world's largest chicken exporter, is optimistic about China's reopening after Chinese New Year celebrations showed a return to normalcy in the food-importing country. CEO Miguel Gularte said that China's consumer behavior has returned to pre-pandemic patterns, with increased travel and dining out. BRF has made investments during the COVID-19 pandemic and is ready to meet increasing food demand. As part of their turnaround plan, BRF is working to make its operations more flexible and quickly capture food sales opportunities both domestically and abroad. The Middle East will continue to be a priority market for BRF, where it is a leading supplier of halal food. The CEO stated that BRF slaughters 10 million hogs and 1.5 billion chickens per year. The company processes pork and poultry and derives most of its revenue from the domestic market, where it aims to increase the market share of its well-known brands.
Freight costs in Brazil have dropped to pre-pandemic levels. "The drop in transportation costs, including road freight, will help improve the company's performance" BRF CEO Miguel Gularte. He also stated that more of their food factories would receive export permits in the next 40 days. The news led to a 7.9% increase in BRF shares, making it the top performer on the Bovespa index. The recent reduction in logistical costs is a recent development and the executive declined to provide an estimate.
Cargill
Cargill has a digital business studio with offices around the world, similar to the old "skunk works" model at Lockheed, which allows for freedom to experiment and fail. This has led to several successful projects that are generating revenue. Cargill remains connected to its infrastructure while developing new ideas, and recently showed off two innovations at CES in Las Vegas: a food service box and a digital advisory service. One of their innovations, Chekt, helps restaurants with their carryout service and reduces the need for in-person handoffs. Another innovation, Digital Saathi, is a mobile platform using AI to help smallholder farmers in India make better decisions and access to inputs and information for better production. The program is mobile-based and works well in India due to strong cell service.
Cargill Animal Nutrition has appointed Patrick Duerksen as its new pork commercial director, Brent Frederick as its technical services and innovation director, and Scott McAdoo as its director of pork business analysis and support.
Conagra
Conagra Brands is recalling over 2.5 million pounds of canned meat and poultry due to a packaging defect that might cause contamination. The problem was discovered when a Conagra location in Iowa reported seeing spoiled and leaking cans with multiple production dates in a warehouse. The goods were produced between December 12, 2022, and January 13, 2023 and shipped to retail locations across the country. The products have the establishment number "P4247." Customers are advised not to consume these products and to either dispose of them or return them to the place of purchase.
Danish Crown
The CEO of Danish Crown, Europe's largest pork producer, has stated that China's consumption of pork remains low and could take up to six months to normalize. The country's imports of pork have halved over the past 18 months due to higher domestic production, low prices, and weak demand. Chinese imports are not expected to rise, as many people are still avoiding restaurants. Danish Crown will lay off 550 staff in Denmark and Germany, and cut capacity at its Essen plant by 40%. Eating out drives consumption in China, but with many people avoiding restaurants due to COVID-19 fears, consumption remains suppressed. It is expected that consumption will normalize in about six months. The slow Chinese demand has a knock-on effect on the European market, where excess meat is flooding the market and causing inflation concerns among consumers.
Hormel Foods
Hormel Foods, a Fortune 500 global food company, has been recognized as one of the World's Most Admired Companies by Fortune magazine. The ranking is determined by executives, directors and analysts in the industry, who evaluate companies based on nine criteria, such as investment value, management quality, and social responsibility. To be included in the list, a company's score must be in the top half of its industry. Hormel Foods has a long history of success and has received numerous awards and recognition in the past year, including being named one of America's Most Trustworthy Companies, one of America's Most Responsible Companies, one of the World's Top Female-Friendly Companies, and one of the 100 Best Corporate Citizens.
Minerva Foods
Minerva Foods, a South American beef exporter, has agreed to acquire Breeders and Packers Uruguay (BPU Meat) for about USD 40 million, less than the amount the Japanese group NH Food paid for it over five years ago. BPU Meat, located in central Uruguay, has a slaughter capacity of 1,200 heads of cattle per day and exports to high-income markets including Europe, US, Japan, South Korea, and China. The acquisition will give Minerva a total slaughtering capacity of 3,700 heads per day in Uruguay and will make the company overtake Marfrig as the leader in the country. The conclusion of the acquisition is subject to approval from antitrust authorities. Minerva is seeking geographic diversification, especially in richer markets and has recently acquired the largest lamb slaughterhouse in Australia for USD 260 million.
Sysco
Sysco Corporation, a food service company, reported its second quarter results for fiscal year 2023. The results showed an increase of 13.9% in sales, 5.2% increase in US food service volume, 15.9% increase in gross profit to $3.3 billion, and 44.0% increase in operating income to $640.6 million compared to the same period in the previous year. However, the earnings before interest, taxes, depreciation, and amortization (EBITDA) decreased by 22.6% to $500.5 million and earnings per share decreased by 15.2% to $0.28.
Tyson Foods
Tyson Foods has been ranked #1 on Fortune magazine's World's Most Admired Companies list in the Food Production category for 7 consecutive years. The ranking is based on a survey of executives, directors, and financial analysts. CEO Donnie King credits the recognition to the hard work and dedication of employees, who recently received $20 million in additional benefits like longer parental leave, mental health support, bonuses, and wage increases. Tyson Foods prioritizes creating an inclusive workplace, offering education and professional development opportunities, and transportation support through a ride-share program.
Wayne-Sanderson Farms
Century Club Charities, a non-profit supporting pediatric healthcare initiatives at the University of Mississippi Medical Center, announced a $1 million donation to Friends of Children's Hospital from the proceeds of the 2022 Sanderson Farms Championship. The total charitable impact of Century Club Charities is over $1.5 million after other donations to Mississippi charities were included. Since Wayne-Sanderson Farms became the title sponsor in 2013, Century Club Charities has contributed over $15.7 million to Friends of Children's Hospital and other Mississippi charities. Children's of Mississippi, which includes a children's hospital and clinics, serves nearly 200,000 children a year. The 2023 Sanderson Farms Championship will take place on Oct. 2-8 at The Country Club of Jackson.
Over 1000 free copies downloaded in the first day!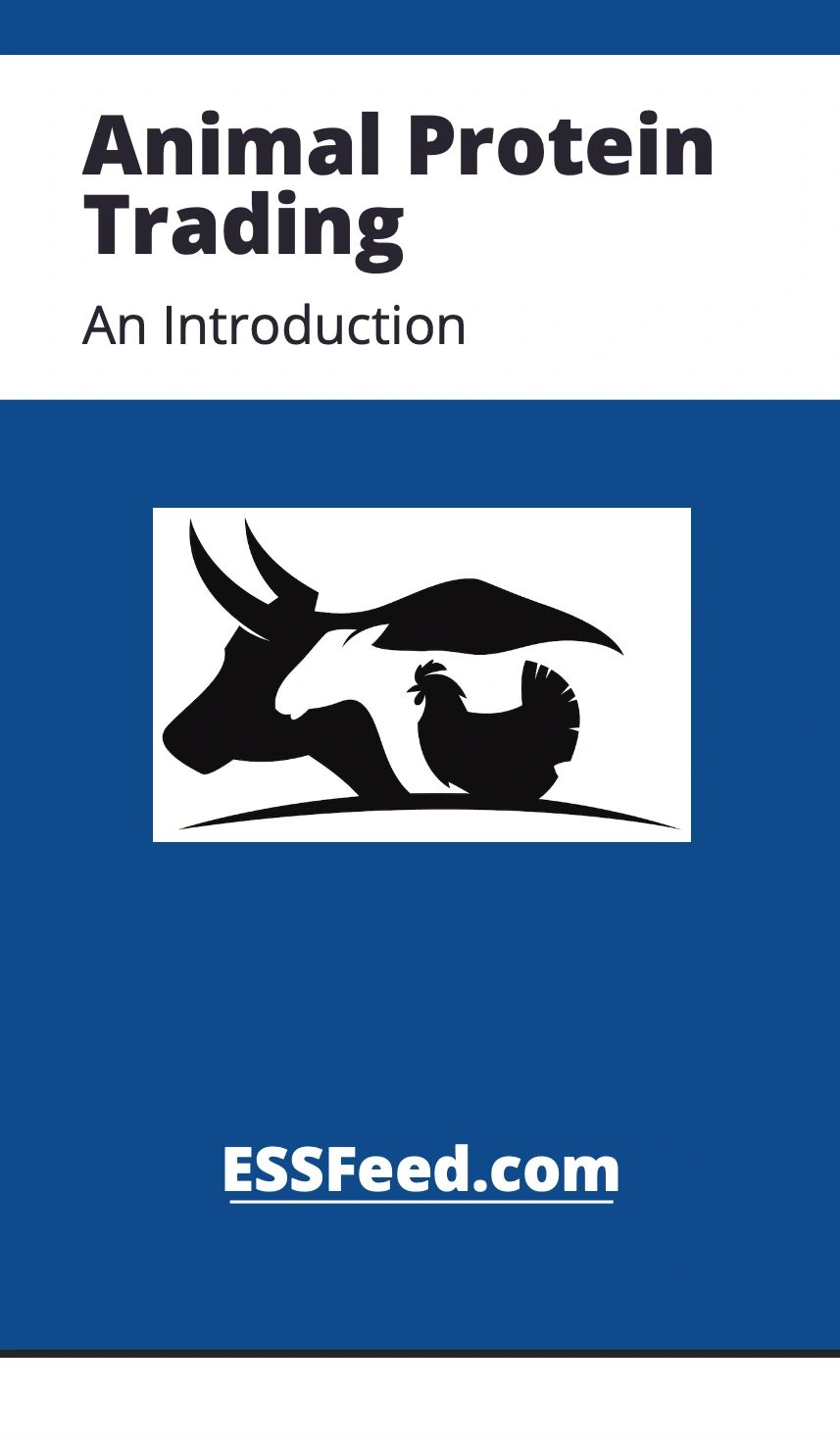 Top 10 Listed Seafood Companies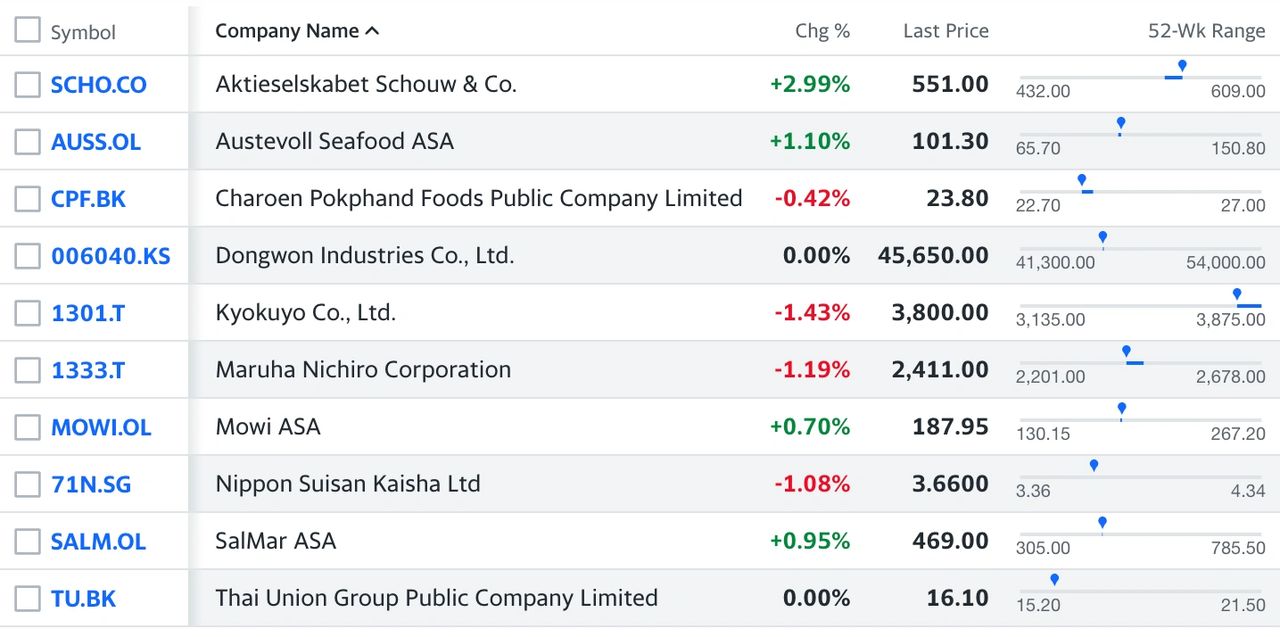 Russia has overtaken the United States in the production of pollock fillets for the first time, increasing production by 16.8% to 139,000 tons in 2022, according to the Russian Pollock Association. In comparison, the US production of pollock fillets decreased by 1.5% to 138,000 tons. Russia's production of pollock fillets has grown steadily since 2015.
Seafood Company News
Maruha Nichiro
Maruha Nichiro, a Japanese seafood company, has announced the resignation of its Chairman and former CEO, Shigeru Ito, due to health reasons. The resignation is effective February 1, 2023. The CEO, Masaru Ikemi, who replaced Ito as CEO in 2020, will now be the sole representative director. Ito will continue to act as an advisor until March 31, 2023. Maruha Nichiro had sales of JPY 862 billion ($7 billion/€6.3 billion) in its 2021 fiscal year and has nearly 150 subsidiaries across the globe in harvesting, fish farming, processing and trading. In the US, Maruha Nichiro is a major supplier of Alaska pollock raw material and finished surimi products.
Nippon Suisan Kaisha
Nippon Suisan Kaisha will announce their Q4 2022 results on 02/03/2023. 1 analyst estimates the company will report earnings of $1.62 per share, a 11.72% increase from the previous year's quarter of $1.45 per share. However, sales are expected to decrease by 14.70% to $1.37 billion. For the current fiscal year, 3 analysts expect the average earnings per share to be $4.01, lower than the previous year's $4.33. Sales for the current fiscal year are estimated to be $5.32 billion, compared to $5.41 billion in the previous year.
Pescanova
Abanca pumps €70m into Nueva Pescanova after unsuccessful bid for new investor. The Nueva Pescanova Group has reinforced its capital with €70 million cash from its main shareholder, Abanca. Financial backers of Spanish aquaculture and fishing conglomerate Nueva Pescanova Group have approved a capital contribution of €70 million ($75.7m) during a general meeting held on Jan. 16.
Trident Seafoods
Joe Bundrant is the CEO of Seattle-based Trident Seafoods, which is celebrating its 50th anniversary in 2023. The company is one of the largest vertically integrated seafood companies in the US, with 9,000 employees, 5,400 independent fishermen, and 44 facilities for processing and selling North Pacific and Alaska seafood. To commemorate the anniversary, Trident plans to host events for its stakeholders throughout the year. Bundrant attributes the company's success to his father's values of being humble, hungry, operating with integrity, and serving stakeholders. He also cites the company's diversification into different seafood products and markets, as well as adding value to their resources through different divisions. Bundrant says that maintaining the company's standards and culture is a concern and that they conduct a cultural survey every year to gauge employee engagement. He says that COVID brought the company closer together and made it stronger, and that their optimism for the future is high.
Top 10 Listed Logistics Companies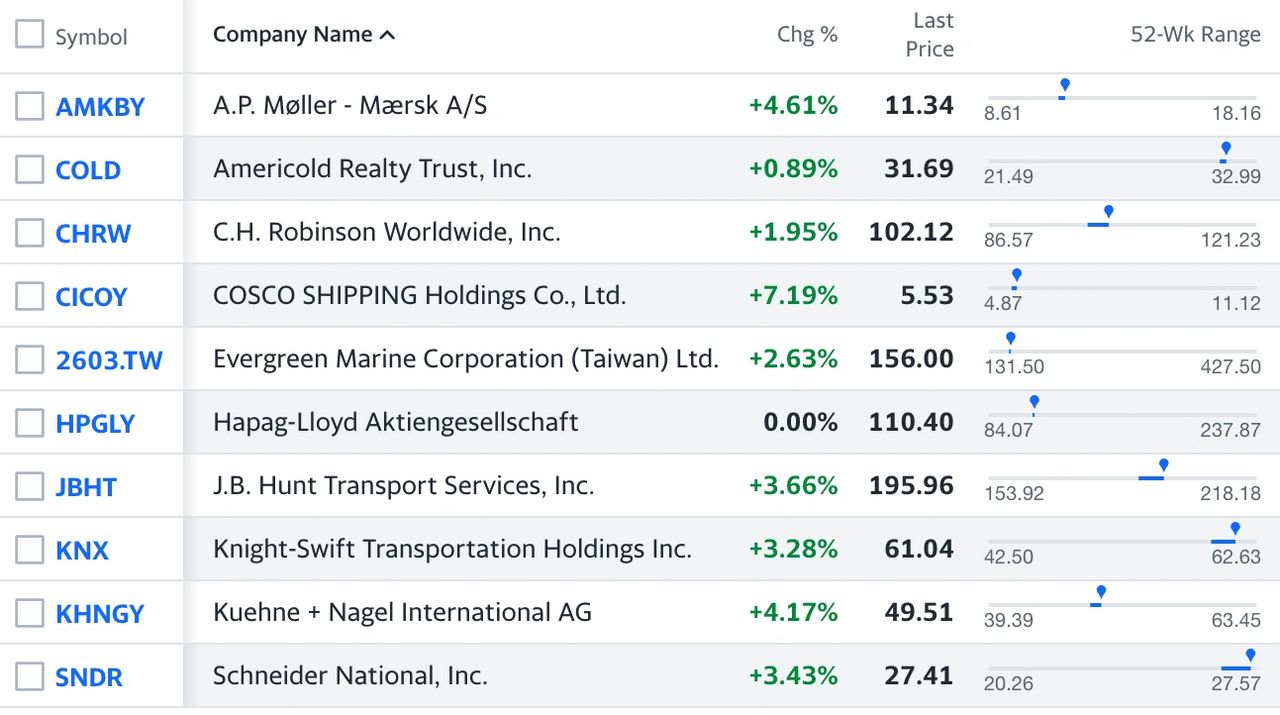 Freight costs (Shipping and trucking) in Brazil have dropped to pre-pandemic levels according to BRF's CEO, Miguel Gularte.
Logistics Company News
Amerigold
A.P. Møller – Mærsk A/S Americold Realty Trust, Inc. C.H. Robinson Worldwide, Inc. COSCO SHIPPING Holdings Co., Ltd. Evergreen Marine Corporation (Taiwan) Ltd. Hapag-Lloyd Aktiengesellschaft J.B. Hunt Transport Services, Inc. Knight-Swift Transportation Holdings Inc. Kuehne + Nagel International AG Schneider National, Inc.
C H Robinson
Logistics company C.H. Robinson Worldwide Inc (CHRW.O) on Wednesday reported a lower-than-expected quarterly adjusted profit as a sagging economy hurt freight demand and prices.
Hapag Lloyd
Kepler Capital Markets downgraded Hapag-Lloyd Aktiengesellschaft's shares from a hold to a reduce rating, while Canaccord Genuity Group upgraded the stock from a hold to a buy rating. Out of the eight analysts who rated the stock, six assigned a sell rating, two a hold rating and one a buy rating. The company has a consensus rating of Reduce and an average target price of $191.25. The stock opened at $110.40 on Tuesday and has a 1-year low of $84.07 and a 1-year high of $237.87.
J B Hunt
J.B. Hunt Transport Services Inc. shares rose by 3.66% to $195.96 on a positive day for the stock market, with the S&P 500 and the Dow Jones Industrial Average also rising. Despite the gain, J.B. Hunt stock was still $22.22 short of its 52-week high of $218.18. On the day, the stock's trading volume (991,578) was higher than its 50-day average (716,160). However, the stock underperformed compared to competitor Old Dominion Freight Line Inc. which rose by 10.32% to $367.62.
Schneider
Schneider, a transportation and logistics provider, announced a quarterly cash dividend of $0.09 per share for its Class A and Class B common stock. The dividend will be payable to shareholders of record on March 10, 2023 and expected to be paid on April 10, 2023. The company's Board of Directors also approved a new stock repurchase program under which up to $150 million of its outstanding common stock may be bought over the next three years. The program will primarily offset the dilutive effect of equity grants to employees.
Major Currency Pairs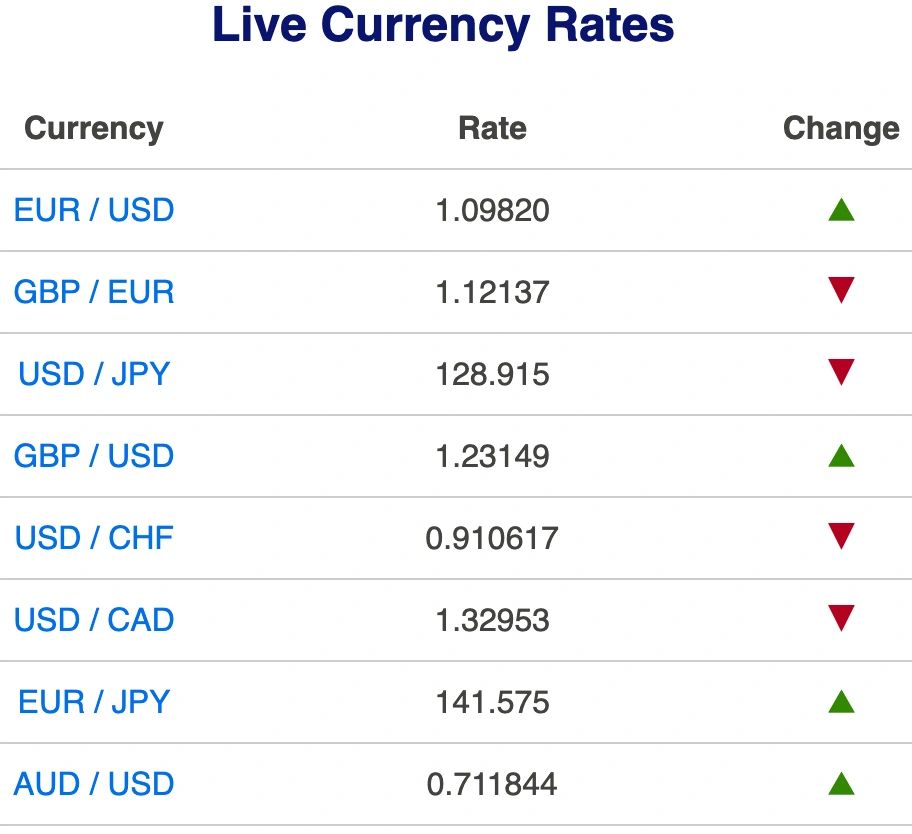 In association with Tech Brew
Tech news is confusing – so we changed that. Join over 450K people reading Tech Brew – the 3-times-a-week free newsletter covering all updates from the intersection of technology and business. We provide free tech knowledge that'll help you make more informed decisions.