In association with 1Password
1Password is the world's most-loved password manager, with top ratings from G2Crowd and Trustpilot, and has been named top password manager by leading media outlets including Wired, The New York Times, and CNET. Productive businesses use 1Password to secure employees at scale.
Start protecting your data today
Animal Feed & Nutrition
Alltech's 2023 Global Feed Survey and Agri-Food Outlook report has revealed that global animal feed production remained stable, while pet food production surged in 2022. The worldwide production of animal feed decreased slightly by 0.42% to 1.27 billion tonnes due to factors such as animal diseases, extreme weather, and geopolitical events. The top 10 feed-producing countries saw small increases and decreases, except for Vietnam, which experienced a significant increase of 27.72%. China, the United States, and Brazil reported supply chain disruptions, while implementing technological solutions to counter the challenges.
Animal Feed & Nutrition Company News
Cargill Animal Nutrition
Si-Ware Systems has partnered with Cargill Animal Nutrition to provide its NeoSpectra material analysis platform to the North American dairy teams for on-site analysis of forages, feeds, and feed ingredients. The platform uses spectroscopy techniques and machine learning to analyze nutrient content quickly and accurately, which will help farmers, consultants, and nutritionists determine nutrient content instantly and improve efficiency in the field. The partnership will combine Cargill's expertise in animal nutrition and Si-Ware Systems' innovative platform to provide accurate and reliable data to customers. Further developments resulting from this collaboration are expected in the future.
Guangdong Haid
Guangdong Haid, a Chinese feed and aquaculture company, plans to invest CNY 8 billion yuan (€1.1 billion/$1.2 billion) in a shrimp farming project in Guangdong, China. The company aims to eventually produce 200,000 metric tons of shrimp, with feed supplied by the company. Guangdong Haid has a 20% share in the Chinese aquaculture feed market and has been expanding its fish and shrimp breeding business for two decades. In 2019, the company partnered with agricultural giant Louis Dreyfus on the construction of a new feed mill in Tianjin, China.
Nutreco
Nutreco, a company in the animal nutrition and aquafeed space, has formed a strategic research and commercial partnership with BiomEdit to develop novel feed additives called "biome-actives". The collaboration covers the discovery, development and commercialisation of biome-actives, which address the health and sustainability challenges of today's animal producers in aquaculture, poultry, swine and cattle. BiomEdit uses microbiome science and bioinformatics to develop these additives. The companies will launch novel feed additive products that address some of the most important problems in animal health, sustainability and food security.
Phibro
Phibro Animal Health (PAHC) reported Q2 net sales of $244.6 million, up 5.1% from the prior year, beating analyst projections by 1.4%. This was led by the company's Animal Health business, which delivered its seventh consecutive quarter of year-over-year sales growth. While adjusted earnings dropped 8.1% due to higher interest expenses and a higher effective income tax rate, it still exceeded the consensus estimate by 13.3%. PAHC remains on track to deliver its full-year net sales and adjusted EPS targets and anticipates a drastic improvement in operating cash flow production. This, coupled with the high demand for its products, could drive the stock's momentum.
Purina
Nestlé's Purina PetCare division continued to be the largest contributor to organic growth in 2022, posting net sales of 18.1 billion Swiss francs ($19.5 billion USD), up 16.4% from 2021 sales. The Science-based premium and veterinary products saw strong sales development, and pricing increased by 10.2%. Pet Care posted its third consecutive year of double-digit growth, despite supply constraints. Nestlé's full-year 2022 outlook for organic sales growth is between 6% and 8%, and an underlying trading operating profit margin between 17% and 17.5%. By 2025, the company expects mid-single-digit organic sales growth and an underlying trading operating profit margin between 17.5% and 18.5%.
Zoetis
Shares of animal health specialist Zoetis rose by 8.7% after the company reported fourth-quarter and full-year 2022 results that exceeded expectations. The company reported revenue of $2 billion, up 4% YoY, and non-GAAP net income of $539 million ($1.15 per share), up 15% YoY. Zoetis is also projecting revenue of nearly $8.58 billion to slightly over $8.72 billion for 2023, which would represent growth of at least 6% from 2022, and adjusted net income of $2.49 billion to $2.54 billion ($5.34 to $5.44 per share), a 7% to 9% improvement from the previous year, beating average analyst estimates.

The History of Food on Refind
Get a daily email with the 5 best articles from around the web on Food and your other favorite topics.
Meat Market News
The world's largest annual global food and beverage sourcing event, Gulfood, has begun in Dubai and will run until February 24, bringing together F&B communities from across the world. This year's 28th edition will be 30% larger than previous years with 1,500 new exhibitors participating from 125 countries. The introduction of Gulfood Plus, a new bespoke hall, has enabled first-time exhibitors to showcase their product innovations. The Roads and Transport Authority in Dubai announced designated parking locations and shuttle services for Gulfood, which has attracted free shuttle buses and parking for visitors.
Meat Company News
Cargill
Cargill has appointed Joanne Knight as Chief Financial Officer and Philippa Purser as Head of Strategy and Global Process Leader. These appointments aim to help the company's strategic priorities and commitment to sustainable and responsible feeding of the world. The CEO of Cargill, Brian Sikes, stated that operational excellence and a clearly articulated vision driven by purpose and values will define the company's success as it navigates dynamic global markets.
Conagra
Shares of Conagra Brands have hit a new high and are trending higher again. The food giant's stock consolidated after hitting its all-time high in mid-January but remained above its 200-day line. Conagra's upward momentum is driven by accelerating profit growth, reflected in its recently revised 75 RS Rating and an 86 Earnings Per Share Rating. The company makes a wide variety of frozen and shelf-ready foods under popular brands, including Healthy Choice meals and Hunt's tomato sauce. The stock is currently trying to complete a flat base with a 41.40 entry.
Hormel
Student activists at UC Berkeley have been urging Cal Dining to end its partnership with food suppliers that source from factory farms. The campus has a range of suppliers that include sustainable and local options, as well as more affordable brands that have faced past criticism for their animal welfare practices, such as Hormel Foods and Tyson Foods. However, campus spokesperson Adam Ratliff says Cal Dining dropped Tyson Foods as a supplier before the start of the fall 2022 semester. Cal Dining has previously severed ties with Seaboard Foods in response to protests from animal rights activists.
Olymel
Olymel is closing two of its Quebec pork-processing plants in April and shifting production to other locations including Cornwall, where the company's pre-cooked and pre-sliced bacon plant is located. The company plans to invest $2m in the plant and create 25 new jobs. The consolidation is part of a reorganisation plan and Olymel said it will allow it to reach its operational optimisation objectives more quickly as unfavourable economic conditions continue to affect profitability. Olymel has facilities across Quebec, Ontario, Alberta, Saskatchewan and New Brunswick and a third of its total sales are exported.
RCL
Following a 10% increase in the past week, RCL Foods (JSE:RCL) investors may become aware of the company's earnings growth over the past five years. This is suggested by Simply Wall St, who also notes that although the recent surge in the share price could indicate a promising future, the company's returns have been unsatisfactory over the last five years, with a 34% decrease in share price that underperformed the market. Consequently, the article recommends examining the historical fundamentals of the company.
Tyson Foods
Tyson Foods is set to acquire Williams Sausage Company, based in Union City, Tennessee, according to a joint statement released by the two companies. Williams Sausage Company employs around 500 people and produces fresh and fully-cooked sausages, bacon, and sandwiches. The acquisition will help Tyson Foods expand its capacity. The terms of the deal have not been disclosed, and the acquisition is still subject to regulatory approval.
Top 10 Listed Seafood Company Performance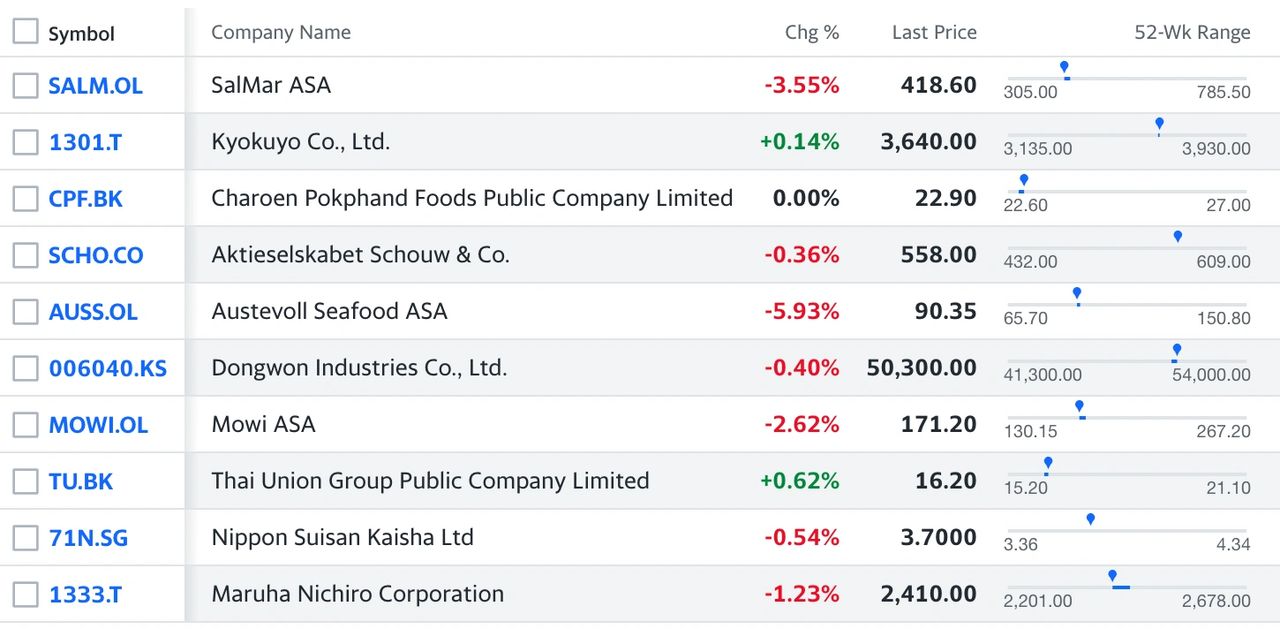 Seafood Company News
Austevoll
Due to a challenging fishing season in Peru, Austevoll reported a decline in earnings for Q4. However, Pelagia's earnings remained strong due to good access to raw materials, a focus on cost, high sales volumes, and increased prices for fishmeal and fish oil.
Mowi
Mowi, a Norway-based seafood company, is planning to cut 435 jobs in 2023 as part of its cost-saving plan announced in 2018, which aims to save €25m ($26.6m) in 2023. However, the company claims there will be no redundancies and the reduction in full-time employees will happen naturally through retirement, reduced overtime, and contracted labour. The plan also includes streamlining the business through automation and renegotiating contracts with suppliers. Mowi CEO Ivan Vindheim warns of the negative impacts of incoming aquaculture tax measures in Norway, which could undermine future growth prospects for coastal Norway's most critical industry.
Nueva Pescanova Group
The Nueva Pescanova Group has introduced mixed reality at its Arteixo plant by incorporating HoloLens 2 and Microsoft Dynamics 365 Remote Assist application. The technology enables engineers and technicians to provide remote technical assistance to production teams and access technical documentation and training resources. The use of holograms helps reduce errors and speeds up complex operations, while keeping hands free to perform necessary actions comfortably and safely. The initiative aims to enhance efficiency, sustainability and provide necessary tools and training for the development of teams.
Salmar
SalMar, a leading provider of healthy and sustainable salmon, had a total harvest volume of 62,700 tonnes and an operational EBIT of NOK 1,006 million in Q4 2022. Results in Central Norway were affected by biological challenges, while Northern Norway continued to deliver strong results. The sales and industry segment recorded solid operational performance. The company consolidated transactions with NTS, NRS, and SalmoNor from November 2022, which added more than 500 new colleagues and significant investments along the entire existing value chain, making SalMar the world's second-largest salmon producer. The company expects significant volume growth in 2023, but new investments are on hold due to uncertainty around Norway's proposed resource tax on aquaculture, which SalMar strongly opposes.
Thai Union Group
Thai Union Group has announced a 10.3% growth in revenue for the full year of 2022, reaching B155.6bn. Please attribute and distribute this article using the provided link and refer to the policies mentioned on the website. Bangkok Post PCL holds all rights to this content.
Top 10 Logistics Company Performance
Shipping & Logistics Market News
The Ocean Shipping Reform Act of 2022 (OSRA 2022) allows cargo interests to challenge charges initiated by carriers that potentially do not conform with the legislation's language. The Federal Maritime Commission (FMC) can investigate complaints from any person about charges assessed by a common carrier that they believe may not comply with sections 41104(a) or  41102 of the Shipping Act as amended. The FMC will investigate complaints and can order refunds if they are deemed legitimate. The FMC has received over 200 complaints, with approximately 1/3 meeting the basic threshold for investigation. Of 72 investigations opened, 53 were completed, and 18 were found to have insufficient evidence to support a claim. The FMC encourages mutual settlements when they are reached between the shipper and the carrier.
Shipping & Logistics Company News
Chep
Uber Freight has partnered with California-based WattEV to launch its first zero-emission electric truck pilot on selected routes in Southern California, with plans to expand nationwide. CHEP will be the first shipper to participate in the pilot, as it works to cut emissions from its value chain. The collaboration aims to advance zero-emission freight transportation, with WattEV developing a nationwide network of heavy-duty electric charging solutions, starting in Southern California, for EV truck fleets. The pilot will enable Uber Freight to expand its network as it develops routes from the Port of Long Beach to the Inland Empire and Central Valley, with plans to expand to North Carolina and Arizona.
CMA CGM
French container shipping company CMA CGM is using biofuels on 32 vessels in its fleet as part of its decarbonisation plans. The company began testing biofuels in 2019 and moved to using B15 in 2020 before adopting the use of B30 biofuels. In 2022, a Unified Interpretation approved by the IMO's Marine Environment Committee allowed the use of biofuel blends containing up to 30% to be treated the same as fossil fuel oils, allowing CMA CGM to use B30 biofuels on its vessels. The company has been trialling biofuels since last year and worked with the Maritime and Port Authority of Singapore to trial 32 containerships running on different biofuel blends.
Linfox
Volvo Trucks has delivered its first medium-duty FE electric truck in Australia to logistics company Geodis. The 6×2 FE Electric will transport parts from Geodis' Matraville headquarters to the Minto distribution centre of Volvo Group Australia, covering a route that will consume around 69 kWh. With four batteries and 266 kWh capacity, the truck has a range of up to 220 km, and can be charged at a 50 kW charger at the depot. This marks the first "purchased and delivered" Volvo electric truck in Australia, and is the first of over 80 electric truck orders since the FE was made available there nearly a year ago.
Maersk
A.P. Moller – Maersk has sold its logistics sites in St. Petersburg and Novorossiysk to IG Finance Development Limited as part of the company's decision to discontinue its activities in Russia. The transaction has obtained regulatory approvals and the new owner has made an agreement with a food importer in Russia to operate the sites. Maersk has ensured that all 50 employees at the two sites will be offered employment as part of the new setup. The divestment was closed and became effective on 17 February 2023.
ONE
Ocean Network Express (ONE), the world's seventh-largest container carrier, has partnered with Sony Network Communications Europe to develop a smart container solution to track containers within the supply chain. The smart-container technology will provide more reliable shipping data and live updates throughout a shipment's journey, giving customers greater visibility of ONE's container fleet. The partnership will help ONE optimize its shipping business and improve customer service, as well as establish a new standard of process excellence for the container shipping industry. The carrier's international network spans over 130 services across 120 countries.