Top 3 Trending Articles
1. Maruha Nichiro Seafoods reports record sales & profits
2. Global milk prices to stay elevated for the next 6 months
3. Global Chicken Meat Market Expected to Grow with CAGR of Nearly 5.45% from 2022 to 2028, Valued at $312.11 Billion in 2022
Bonus: Shipping lines collude to increase India – US freight rates
Futures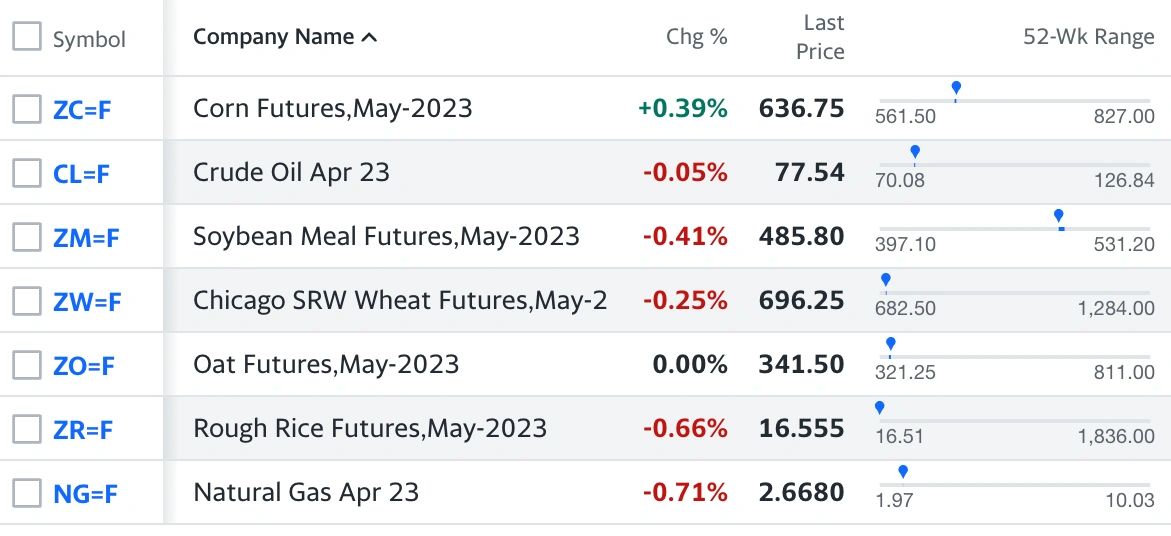 World Grain News
The National Grain and Feed Association's (NGFA) 127th annual convention will take place from March 21-23 in California, and will feature a lineup of agribusiness leaders and federal regulatory officials to discuss opportunities in the grain, feed, processing and export markets. The event will cover a range of topics including transportation investments, risk management assessments, consumer behavior, and political outlooks. The convention will also feature a Transportation and Technology Open Forum on March 21, which will discuss rail and waterways. The NGFA expects an exceptional turnout and will welcome a new class of the NGFA Committee Apprentice Program (CAP) and National Grain and Feed Foundation scholarship winners from the Minorities in Agriculture, Natural Resources, and Related Sciences (MANRRS) student society.
Animal Feed & Nutrition Company News
ADM
ADM, the global agribusiness, has been prioritizing quality of earnings over quantity in recent years, focusing on return on invested capital and synergies to mitigate the impact of volatile markets. The company has made portfolio adjustments, selling or adjusting underperforming and low-returning businesses and investing in high-volume, high-throughput assets. ADM has also been investing in in-country distribution around the world to better understand customer needs.
ADM has partnered with Marel to create an innovation center in the Netherlands to develop and produce new alternative protein products. The center will be located at the Wageningen Campus and is expected to open in the second half of 2024, subject to regulatory approvals. It will provide food manufacturers the opportunity to work alongside food scientists, extrusion experts, and culinary professionals to prototype, manufacture and market new alternative protein products, and leverage pilot plant production with novel processing techniques.
Cargill
Cargill, the top trader of agricultural commodities, believes that the renewal of the UN-brokered export pact allowing ships to navigate the Black Sea will be extended, buoyed by the increase in grain exports from Ukraine. The increase in Ukraine's corn, wheat, and barley exports has contributed to a decrease in world food prices, giving Cargill's Chairman confidence that the pact will be renewed before it expires on March 18th.
Evonik
Evonik and BellaSeno are collaborating on the commercialization of 3D-printed scaffolds for bone regeneration using Evonik's Resomer polymers. The scaffolds will be used for large and complex bone defects and ensure that grafts are placed in the correct anatomical position, addressing the limitations of tissue autografts. The companies initially collaborated on scaffolds for chest wall and breast reconstruction in 2019. The Resomer portfolio includes formulations for filament- and powder-based 3D printing, with mechanical properties and a degradation profile that safely matches the patient's own bone formation.
Royal DSM
Haleon, the maker of wellness product brands like Centrum, has partnered with Hologram Sciences, a company backed by Royal DSM, to apply personalized-nutrition solutions to its portfolio of wellness products. The companies will collaborate to create new personalized wellness concepts, exploring commercial opportunities in the US to address consumer unmet needs. The partnership aims to provide consumers with personalized experiences as they navigate their wellness journeys and aspire to maximize their healthspan.
Viterra
Gavilon Agriculture Investment has been officially renamed Viterra in the US and Mexico, following Viterra Ltd's purchase of its grains origination, storage and food ingredients business. The acquired assets are in major growing areas across the US and offer access to major railroads, rivers and ports. Viterra's network of storage, processing and transport assets connect producers and consumers to supply sustainable, traceable and quality-controlled agricultural products. The rebranding process began on February 27, and will continue until all aspects of the Gavilon brand have been updated.
Meat Company News
2 Sisters Food Group
Sisters Food Group has denied reports that its poultry plant in Anglesey, Wales, is to close, insisting that the future of the factory remains under consultation. The Welsh government had previously stated that the plant would cease production after the company had failed to present a viable plan for the site. Sisters Food Group said it had not yet made a final decision on the factory, which it previously described as "unsustainable".
ABP
Despite complaints about the smell of "rotten" meat, the Environmental Protection Agency (EPA) has approved the expansion of the capacity of the Anglo Beef Processors Proteins (ABP) meat rendering plant in Waterford. The plant, owned by ABP Food Group, has objected to the restrictions imposed by the EPA as part of the approval. The plant had applied to process 600 tonnes of meat per day, a 60% increase from its current capacity of 375 tonnes, and the EPA has approved the application with over 100 conditions. ABP is objecting to the restrictions, claiming they are "irrational" and may lead to fines or the loss of its license in the future.
Conagra
Conagra Brands CEO Sean Connolly has stated that the company's size is a valuable asset and downplayed the benefits of splitting up the company. While Conagra has sold sizable units in the past, Connolly said that the company's scale and scope are assets, especially in the snacking and frozen foods segments, and that separating the divisions could weaken cash flow, negotiating power with retailers and margins. Connolly warned that a sweeping move could "destroy value" in the long run.
Hormel Foods
Hormel Foods' shares declined on Tuesday, putting them on course for their longest losing streak to date. The stock was down 0.8% in line with the overall market downturn, making it its 11th consecutive day of decline, which is the longest stretch since data was first recorded in 1972 by Dow Jones Market Data. Over this period, the shares have dropped approximately 12%.
Kepak
Kepak has launched a new marketing campaign for its Rustlers brand, titled "Better Than You Think," which aims to promote the brand's quality and taste credentials through education on provenance and taste cues. The campaign builds on the success of a previous campaign and features a self-depreciating and humorous attitude that has proven to appeal to consumers, resulting in a boost in purchase volume and frequency. The campaign is part of Kepak's £1.5m marketing investment in the Rustlers brand for the upcoming year. The previous campaign resulted in an 18% year-on-year increase in sales and brought 40.3% more shoppers to the brand.
Maple Leaf
Michael McCain, the CEO of Maple Leaf Foods Inc., one of Canada's largest food industry players, has dismissed the efforts to establish a code of conduct for the grocery business. The proposed code of conduct aims to regulate the food industry and prevent dominant grocery chains from exploiting manufacturers and farmers. However, McCain believes that the code of conduct will not have any impact on businesses or consumer outcomes, and his company is indifferent to its implementation. McCain made these comments during his testimony at a parliamentary committee investigating whether major grocery chains took advantage of the inflation crisis to boost their profits.
RCL Foods
RCL Foods, a South African company that operates in the poultry and animal feed sectors, faced challenging business conditions that affected its profitability, despite higher sales revenue across its operations. The company's latest report described its financial results for the first six months of 2022 as "resilient." Despite facing higher input costs, RCL Foods was able to increase its revenue by almost 18% year-on-year to ZAR 20.2 billion (US$1.10 billion) for the six months ending in December 2022.
Salmar
Norwegian salmon farming company SalMar reported strong operational earnings before interest and taxes (EBIT) of over NOK 1 billion in Q4 2022, boosted by record-high harvest volumes and strong demand for salmon. The company achieved an operational EBIT per kilogram of NOK 16.05 and harvested 193,700 metric tons of salmon for the full year. Despite a slump in profit before tax from continuing operations in Q4 2022 due to the merger with Norway Royal Salmon, SalMar's CEO called 2022 an "eventful year" that will shape the company's future going forward.
Skretting
Nordic Halibut has signed a three-year deal with Skretting for feed supply as part of its plan to increase production to 4,500 tonnes by 2026. The two companies are currently working on developing the next generation of halibut feed, using Skretting's experience and knowledge in sustainable feed production. The feed will be produced at Skretting's facility in Averøy, near to Nordic Halibut's production hub, to minimize supply risk and transportation environmental impact.
Sysco Corp
Sysco Corporation has lowered its bottom-line guidance for fiscal 2023 due to product cost inflation and softer-than-planned market volumes. However, the company's Recipe for Growth program is said to be strengthening its sales and supply chain capacities. Despite the lowered guidance, Sysco expects earnings per share to grow by 23-28% from the year-ago period.
Trident Seafoods
Trident Seafoods, a Seattle-based company, is moving away from China as a fish reprocessing center due to changes in logistics and US consumer demands, according to Allen Kimball, a senior executive consultant for the company. Although the COVID-19 quarantine measures for seafood imports have been lifted in China, Trident Seafoods has been shifting away from reprocessing fish in the country since the pandemic. Kimball mentioned that while the company cannot move all its product conversion away from China, it has been stepping away from China as a whole.
Tyson Foods
Tyson Ventures has launched its second annual Demo Day and is inviting upcycling startups to pitch their innovations that will help Tyson Foods and the wider food industry reach sustainability goals. The event will be held in July in Arkansas, and Tyson Ventures hopes to find upcycling technologies that can help the company reduce its environmental footprint. Up to six selected startups will be given the opportunity to engage with Tyson Foods leadership and potentially partner with the company to test their innovations.
Dairy Market News
At this month's first Global Dairy Trade (GDT) auction, international milk prices and volumes fell. The GDT Price Index was down 0.7%, with an average selling price of $3,403 per tonne, and a total of 26,747 tonnes of dairy products were sold, down about 12.9% from the previous sale. These results could potentially impact the New Zealand dollar, as the dairy sector generates over 7% of the country's GDP. The country's milk co-operative, owned by around 10,500 farmers, controls nearly a third of the world dairy trade.
Dairy Company News
Amul
Amul, one of the oldest dairy brands in the Indian market, has denied rumors circulating on social media that its butter is being packed in China after a video was shared on WhatsApp. The company has issued a public notice requesting people to not pay any heed to the baseless and fake news. The controversy arose when a video circulated showing new packaging of Amul Butter being packed in China.
Dairy Farmers of America
Dairy Farmers of America (DFA) will be closing its dairy ingredients plant in Pavilion, New York on March 31, affecting 13 employees. The plant is operated under WNY Enterprises, a joint venture between DFA and Craigs Station Ventures. DFA will offer employees jobs at nearby sites and outplacement support. The co-op is also exploring alternative uses for the facility.
Fonterra
Dairy consumers are demanding quick action on sustainability, particularly carbon reductions, according to Charlotte Rutherford, Director of Sustainability at Fonterra. Rutherford spoke on a panel at the International Dairy Forum Association (IDFA) and highlighted that sustainability is now a must-have for customers such as Nestlé, MARS, Abbott, and Premier. Fonterra has been working to become more sustainable and shared its work at the forum. Rutherford noted that the US dairy industry is growing and has confidence in its adaptability and future, but that carbon measurement and reporting, access to water in some states, and individual state laws are challenges.
FrieslandCampina
FrieslandCampina Ingredients will be showcasing new product concepts at the Natural Products Expo West trade show, including a chocolate plant-protein drink made with Plantaris Pea Isolate 85 A ingredient, a clear protein water fortified with Nutri Whey Isolate Clear ingredient, and prebiotic gummy supplements featuring Biotis GOS-OP High-Purity ingredient, which delivers a higher concentration of available GOS than other prebiotics on the market. These products are designed to overcome common challenges in plant-based formulation, provide high-quality protein, and improve mouthfeel and taste.
Lactalis
French dairy company Lactalis has been charged with criminal offenses in relation to a recall of infant formula products due to a salmonella outbreak that affected babies five years ago. The company has been under investigation for its role in the incident, which resulted in infants being diagnosed with salmonellosis after consuming Lactalis products.
Seafood Company News
Appel Feinkost
Allan Jensen, the ex-managing director of Greenland Seafood, is now the CEO of Appel Feinkost, a German canned seafood producer. Jensen had been with Greenland Seafood, which is now owned by Sofina Group, for more than eight years before leaving in March 2022 following a significant management restructuring. Appel Feinkost's new CEO revealed his new position on his LinkedIn profile.
Charoen Pokhand
Charoen Pokphand Foods Public Company Limited (CP Foods) is focusing on developing food products with decreasing greenhouse gas emissions throughout its value chain to promote sustainable consumption. The company plans to expand its product portfolio, including plant-based products, to meet the growing consumer demand for sustainable foods. CP Foods has received carbon footprint certification for over 800 products and achieved carbon footprint reduction for over 50 products, reducing greenhouse gas emissions by 2.3 million tons of carbon dioxide equivalent. Last year, CP Foods' twenty-three fresh egg products received global warming reduction certification, estimated to mitigate greenhouse gas emissions by approximately 617,000 tons of carbon dioxide equivalent.
Maruha Nichiro
Maruha Nichiro, the world's largest seafood company, has reported its highest-ever sales and operating profit for the nine-month period from April through December. The company's net sales grew by 18 percent to JPY 781 billion, while operating income rose by 20.4 percent to JPY 26.9 billion. Recovery in sales of farmed fish to foodservice and institutional food businesses drove the Marine Products Business Segment, while the Aquaculture Unit benefited from higher sales volumes and prices of yellowtail and amberjack, and higher market prices for tuna. However, the Processed Foods and Foodstuff Distribution Segments struggled with higher costs, and the company expects a tougher business environment in Q4 due to falling market prices for marine products and consumer reluctance to buy.
Mowi
The UK government's Department for Environment, Food and Rural Affairs (Defra) has granted over £16 million (€18 million/$19.2 million) to various seafood companies including Mowi Scotland, JCS Fish, Falfish, and Denholm Seafoods, with the aim of upgrading and expanding their operations. This funding comes as part of the first round of the UK Seafood Fund: Infrastructure Scheme, which seeks to strengthen the country's seafood supply chain. Mowi Scotland will receive just over £2 million (€2.3 million/$2.4 million) from this grant.
Proximar
Proximar Seafood, a land-based salmon farmer backed by Nutreco and Marubeni, is set to produce 5,300 metric tons of salmon from its facility at the base of Mt. Fuji in the first phase of its project. While the project is on track for a 2024 harvest, the company faces the challenge of pitching land-based salmon to Japan's consumers in a nation of fish-eaters.
Shipping & Logistics Market News
CMA CGM and Hapag-Lloyd are set to increase container freight rates for shipments from India to North America via general rate increases (GRI) later this month. CMA CGM is proposing a GRI of $500 per TEU and $600 per FEU for all shipments to the US East Coast, the US Gulf Coast, and Canada, while Hapag-Lloyd plans to raise rates by $450 per TEU and $500 per FEU for all India–North America shipments. They are joining MSC, who issued a similar GRI notice on February 22nd.
Shipping & Logistics Company News
DB Schenker
Deutsche Bahn has reportedly chosen Goldman Sachs and Morgan Stanley to advise on the sale of its DB Schenker logistics unit, which could be valued at up to €20bn ($21.3bn). The formal hiring of the banks is expected after a fiercely competitive pitching process, according to unnamed insiders. However, final details of the mandate are yet to be finalised and are subject to change, they said.
Maersk
Maersk Supply Service has secured a three-year contract with Brazilian oil and gas firm Petrobras for three of its anchor handlers. The vessels will be used offshore Brazil for anchoring handling activities and rig movements. The deal builds on Maersk's previous work in Brazil, which has included contracts with Shell and Petrobras. The company said the contract helps to consolidate its presence in the region, while Petrobras said it was pleased with Maersk's "technical and operational capabilities".