Today's Trending Headlines in association with Refind

Get a daily email with the 5 best articles from around the web on Food and your other favorite topics.
Animal Feed & Nutrition Market News
AgriTech Capital has released a new book titled 'The Future of Agriculture', which features essays addressing the challenges and trends in the rapidly changing agriculture sector. The book aims to provide practical answers and specific examples, innovative ideas and new concepts, and thought leadership across a range of technologies to help readers find ways to protect, maintain and prudently deploy limited resources, produce foods that meet the health and nutrition needs of a growing population, and ensure sustainability of the planet's natural resources. The author, Aidan Connolly, is the president of AgriTech Capital and has over 30 years of experience in the agribusiness sector.
Animal Feed & Nutrition Company News
ADM
ADM has decided to permanently close its flour mill in New Braunfels, Texas by the end of March, citing that the mill no longer meets the operational requirements of its milling business. The closure will impact employees, but ADM hopes to find opportunities for them in other facilities within the company. The company will offer financial packages to those who leave and will support them in finding other employment. ADM plans to transfer production to other mills in its network and will work with customers previously supplied from New Braunfels to ensure a smooth transition. The mill, which has been in operation for almost 140 years, has the capacity to produce 600,000 pounds of flour daily. ADM plans to dispose of the facility after decommissioning.
Evonik
Evonik Animal Nutrition has entered into a partnership with Dr. Eckel Animal Nutrition to expand its gut health solutions product portfolio to include phytogenics. The first product from the partnership is expected to launch in Europe in Q1 2023. The agreement is effective from 1 January 2023.
Novus
Novus International has acquired biotech firm Agrivida to gain ownership of its proprietary Interius technology, which embeds feed additives inside grains. This follows a two-year commercial partnership between the companies to support the sale of Agrivida's flagship product, Grainzyme. Novus plans to expand its product offerings to include antibodies embedded in grain, in addition to enzymes.

Alternative Assets demystifies and explains the best "unique" investments out there!
Subscribe to Alternative Assets today!
Top 10 Listed Meat Companies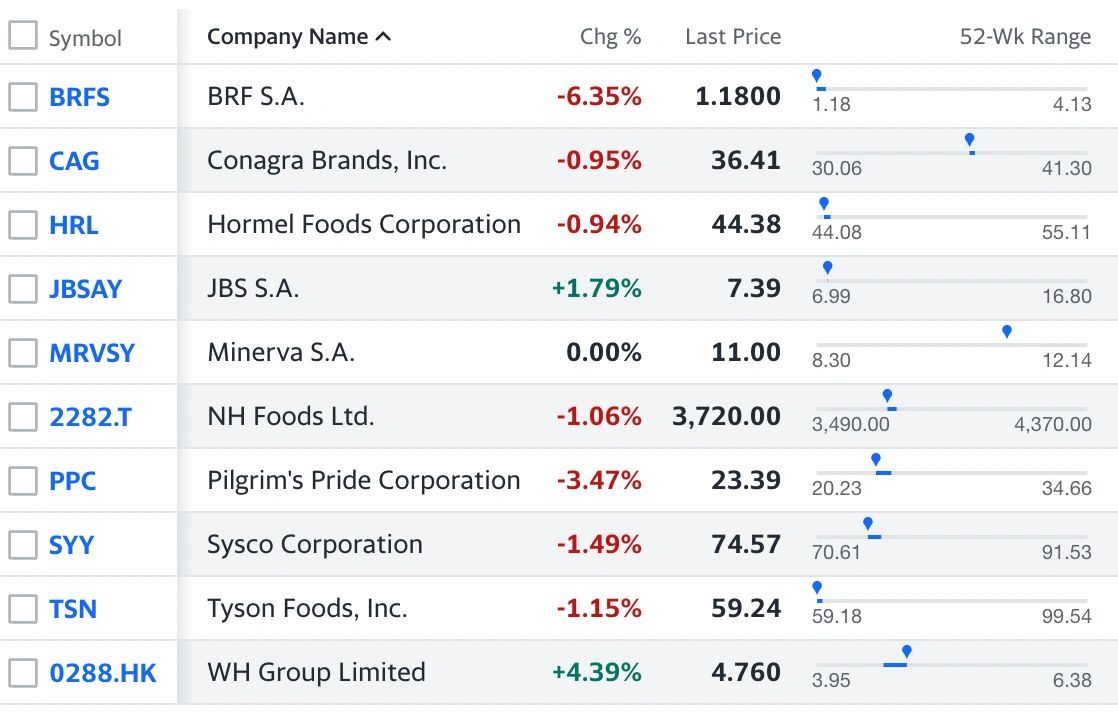 Meat Market News
The US government is providing grants worth $59m to independent meat processors to dilute the control of large meat processing firms, including Tyson, JBS, Cargill and National Beef Packing. The grants will be used to create new plants, expand facilities, and develop environmentally friendly processes. The move aims to improve prices for farmers and consumers and increase competitiveness. The White House said that the four largest processors in the pork, beef and poultry markets control significant portions of the sector, leaving the system vulnerable to shocks when plants close, and plans to spend around $1bn in total to strengthen meat supply chains.
Meat Company News
2 Sisters
The CEO of 2 Sisters Food Group, Ronald Kers, is set to depart from his position later this year to take up the same role in Valeo Foods Group. The U.K.'s top poultry meat producer announced Kers' departure after its parent company, Boparan Holdings Limited, made the announcement earlier this month.
Cargill
John Keating, a former executive from Cargill, has been appointed as the new CEO of Meyer Natural Foods. Keating worked with Cargill for more than 30 years, most recently serving as president of business operations and supply chain for North America before retiring in 2022. Meyer Natural Foods is a supplier of natural and organic protein products, and Keating's appointment is expected to drive growth and progress for the company.
Maple Leaf
Maple Leaf Foods has appointed Dennis Organ as president of its Pork Complex, which supplies fresh pork to customers and consumers in North America and internationally. Organ, who brings over 27 years of executive experience in the food industry, previously held various key roles, including CEO and COO, at Smithfield Foods. The appointment follows recent senior leadership changes at Maple Leaf Foods, which saw CEO Michael McCain assume the position of executive chair.
Olymel
Sollio Cooperative Group, the parent company of Olymel, reported a loss of CA$337.5 million for the fiscal year ending October 29, 2022, including loss from discontinued operations. Despite the loss, sales increased by CA$1 billion to reach CA$8.9 billion. The company attributed the loss to various factors such as accounting depreciation of intangible assets and challenges in the hog industry due to the pandemic, labor shortages, and supply chain disruptions. However, some of the divisions such as poultry, further processed pork, crop production, and retail division with Groupe BMR showed excellent results. Sollio Cooperative Group aims to continue with its asset optimization plan to return the company to profitability and ensure its sustainability.
Perdue
A fire broke out at Perdue Farms in Chesapeake, damaging a grain dryer tower used to dry soybeans. No one was hurt, and the cause of the fire is still unknown. Firefighters used hose lines and emptied the dryer to extinguish the fire. Perdue Farms is expected to resume normal operations after the incident. A similar fire had also occurred at the plant in 2021, with no reported injuries.
Simmons
In order to plan business operations effectively, CEO Todd Simmons emphasizes the importance of evaluating a company's resources and capabilities. He recently spoke about the challenges of managing growth while maintaining quality, and stressed the importance of prioritizing people, relying on strategy, and finding capable leadership. Simmons Foods, a producer of poultry and pet food, has transitioned from a commodity producer to a value-added producer, according to Simmons.
Tyson
Tyson Foods has seen a rebound in sales and is investing in operational upgrades, but its financials have deteriorated due to increased capex and costs. The company's recent acquisition of William Sausage is also raising questions about how it will integrate and expand its food servicing portfolio. Despite this, the article suggests that the market has already priced in the potential downside for the company.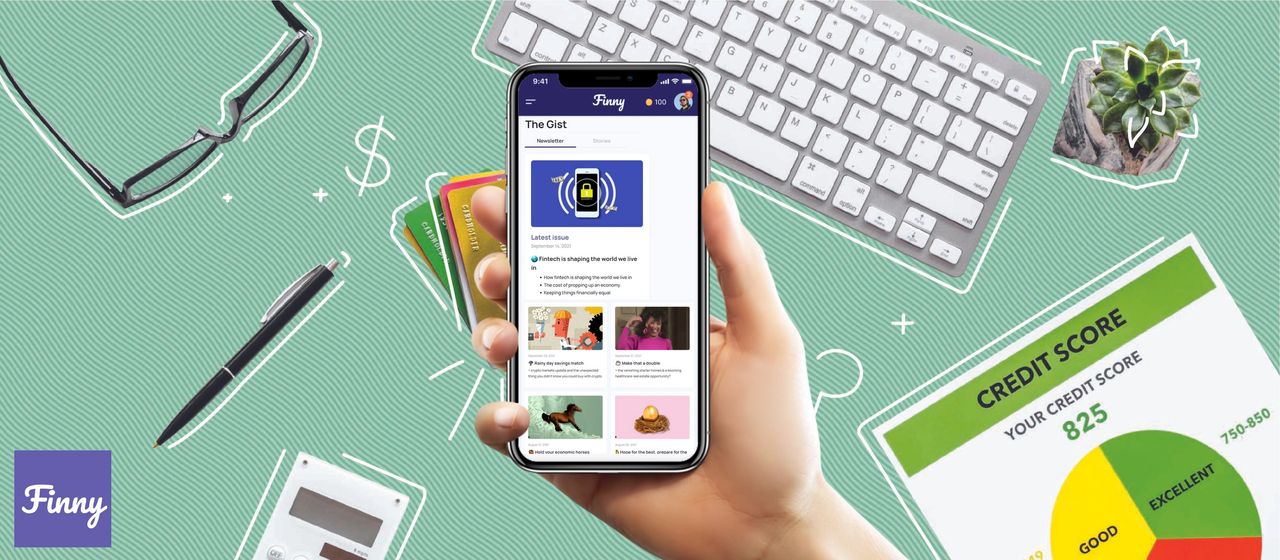 Twice a week, Finny sends you simple 5-minute breakdowns of top money trends, personal finance, and investing tips delivered right to your inbox – for free.
Logistics News
A year ago, over 100 ships loaded with imports from Asia were waiting outside the ports of Los Angeles and Long Beach, with shippers paying up to $20,000 to ship a 40ft container from China to the US west coast. However, a year later, there are very few containerships to be seen in the San Pedro Bay, and those that are discharging at LA/LB terminals came straight to a berth. Much of the spot cargo, carried on sailings that have not been blanked, are earning the carriers just $1,500 per box, or less. At the annual JOC TPM Conference, carriers are trying to repair relationships with shippers after the supply chain crisis of 2021-2022, which saw shippers paying huge charter hire costs to deploy their own tonnage when carriers were unable to honor the minimum quantity volumes of the contracts. However, with demand having tanked since September, and millions of TEU of newbuild capacity ready to hit the water, carriers are out in force at TPM trying to repair fractured relationships and get the BCOs back on side.
Logistics Company News
DHL
DHL has reported that airfreight volumes remain low in February 2023 due to ongoing supply chain disruptions caused by the pandemic, but expects a recovery in the second half of the year. The company is working to improve its capacity and services, and is investing in technology to improve its efficiency and speed. However, DHL has warned that the situation remains unpredictable due to geopolitical tensions and other factors.
Kuehne+Nagel
Kuehne+Nagel, the Swiss multinational logistics company, reported a strong financial result for the 2022 financial year. Group net turnover increased by 20% to CHF 39.4 billion, EBIT by 28% to CHF 3.8 billion, and net profit by 30% to CHF 2.8 billion. All business units contributed significantly to the company's success.
Maersk
A.P. Moller-Maersk, the world's second-largest container shipping group, believes the US economy is in good shape, but China may disappoint those hoping it will power the global economy this year, according to CEO Vincent Clerc. He stated that the specter of a recession in the US and Europe is receding due to the strong labor market, which is the source of continued consumer confidence. However, Clerc was less optimistic about China's reopening providing a boost to the global economy due to domestic economic headwinds and US-China tensions.
MSC
MSC CEO Soren Toft, speaking at the Transpacific Maritime Conference, stated that container shipping will be the foundation for the growth of international trade and commerce, and "global trade will prevail" despite the disruptions of COVID-19 and geopolitical factors. He also noted that MSC will continue to invest in its fleet and prioritize owning its own ships, while improving operational efficiency to comply with the UN IMO's Carbon Intensity Indicator. MSC remains committed to long-term partnerships and investments that look far into the future.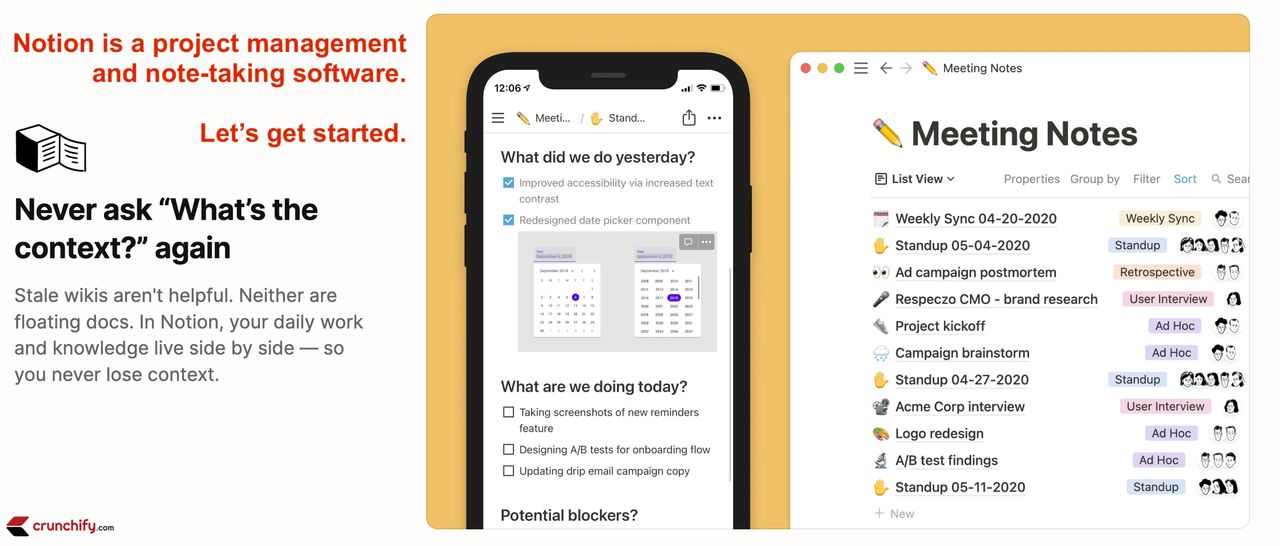 Over 20 million people and hundreds of thousands of teams around the world use Notion to organize their work and get more done.