Discover and invest in the best alternative assets. Join over 75 000 subscribers for free.

Animal Feed & Energy Futures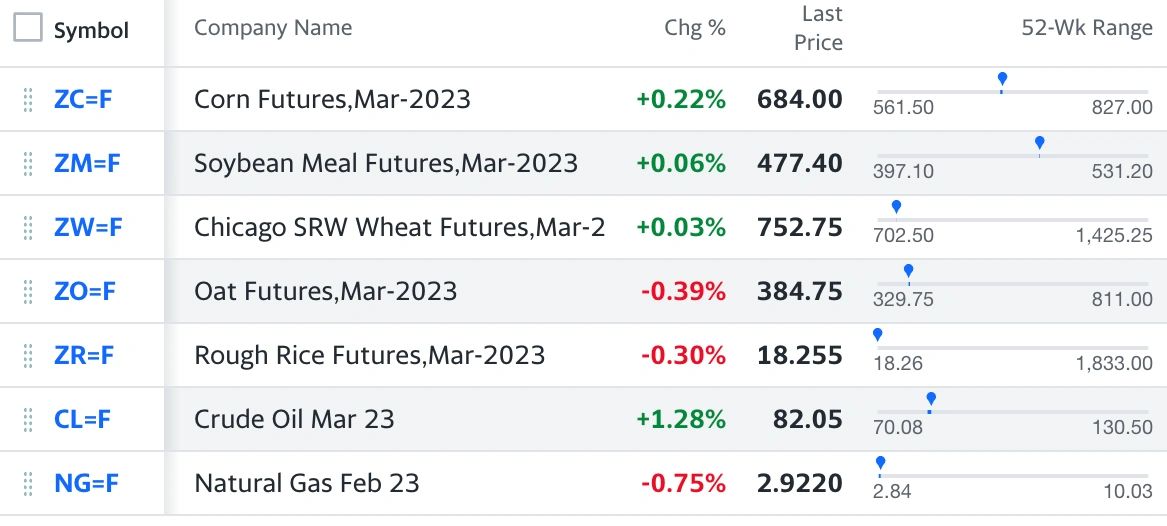 Eni CEO Claudio Descalzi said Italy has the potential to become a hub for Africa gas imports. Italy has connections to Africa, like TransMed pipeline linking Algeria to Sicily, gas from Libya, liquefied natural gas from Egypt, Angola, Congo Republic, and Mozambique. Italy is also working to replace Russian gas by the end of 2024.
Top Listed Dairy Companies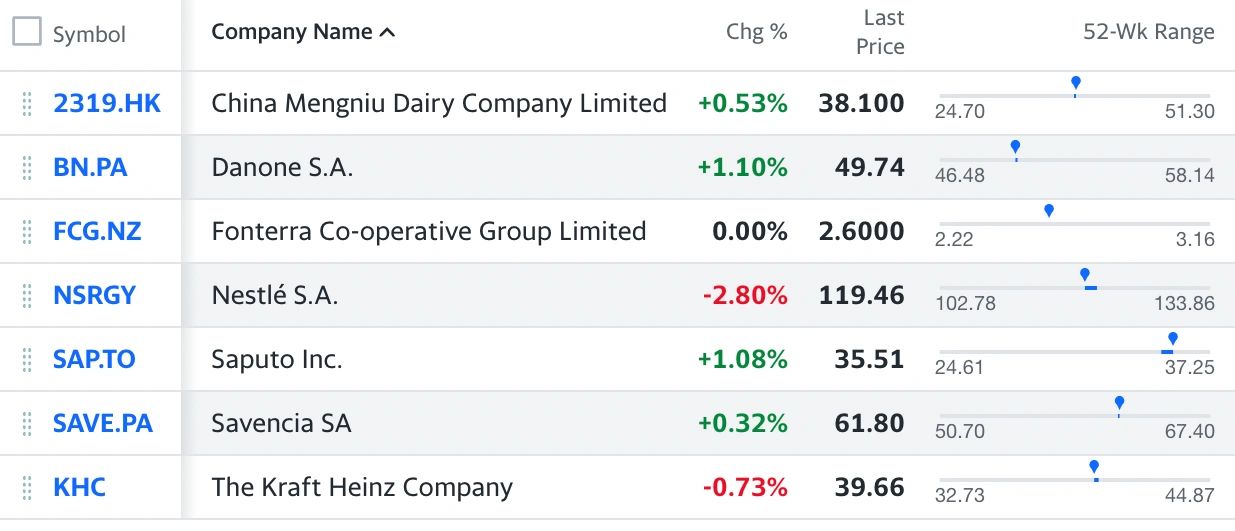 In December the FAO Dairy Price Index rose by 1.1% from November and was 7.9% higher than the same month a year earlier. Overall, the FAO Dairy Price Index in 2022 was up 19.6% from 2021 and had the highest annual average on record since 1990.
Dairy Company News
DFA
Dairy Farmers of America (DFA) has grown its milk hauling fleet through acquisitions over the past four years. The co-op, which is one of the largest in the Northeast, had previously only had a small in-house milk hauling capacity but this changed in 2019 when St. Alban's Cooperative Creamery joined DFA and brought four Vermont trucking depots with it. This increased DFA's Northeast hauling capacity to at least 90 tankers and 75 million pounds per month. Additionally, DFA acquired two New York milk trucking firms in 2020, Slocum of Farmersville Station and GTI of Amsterdam. Despite this expansion, DFA still relies on 115 contract haulers to move a significant portion of its members' milk.
Fonterra
Fonterra, a New Zealand based co-operative, has ordered its farmers to stop killing bobby calves on their farms unless there is a humane reason for doing so. The company stated that from June all bobby calves should be raised for beef, slaughtered for calf-veal, or pet food market. The move is to ensure that the bobby calves "have a useful life" Fonterra says in its terms of supply document. Rabobank agricultural analyst Genevieve Steven said the new requirement could be the catalyst to start a number of welfare, emission reductions and niche market benefits the industry had long investigated.
Nestle
Nestle is investing $43 million in the Nestle Health Science facility in Eau Claire, Wisconsin. The facility will add two production lines, increasing its capacity to manufacture nutritional beverage brands and medical nutrition formulas. These new production lines will package ready-to-drink products in sustainable Tetra Pak cartons, in line with the facility's focus on sustainability. The facility is also set to run on 100% renewable electricity by 2025 and more than 90% of water used by the facility is to be fully recovered by 2023. The project is also expected to create 60 jobs across packaging, processing, mechanical and engineering positions. This investment comes just over two years after Nestle announced a $50 million project that made the Eau Claire facility the company's largest Health Science site.
Top Listed Meat Company News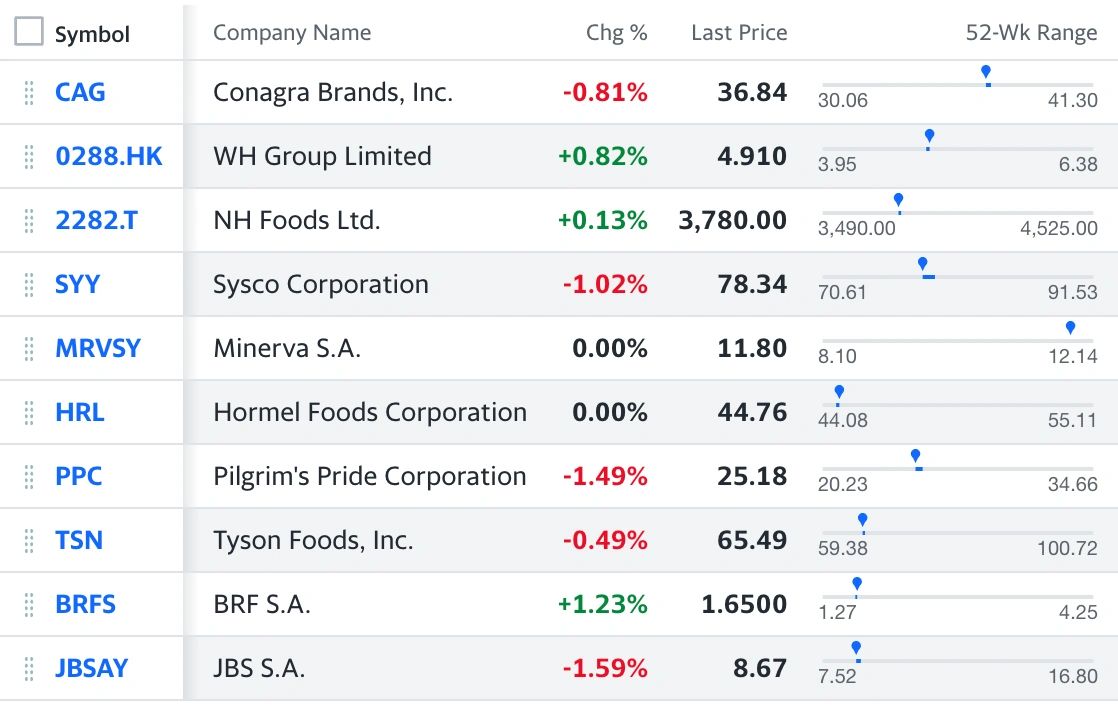 Breaking News:
Indonesia approves additional Brazilian Beef plants, which will gain more access to the Indonesian beef market following an announcement this week that a further 11 Brazilian beef processing plants have been approved to commence exports in the coming months.
Read: Indonesia approves 11 Beef plants
Meat Company News
2 Sisters
Over 700 jobs are at risk at a chicken factory on Anglesey as 2 Sisters Food Group plans to cease operations at their factory in Llangefni. The decision comes after a review of the company's UK poultry division and the factory was found to be not sustainable and costly to operate. The statement from the company said that the decision is due to the challenges facing the food manufacturing sector and that they need to make operational changes. The company has said that they will hold consultations with employees and explore options before making any final decisions about the closure of the site.
Bell & Evans
Air chilling of poultry carcasses is becoming more popular in the United States as consumers demand higher-quality products. European processors have been using air chilling for over 50 years, but it has only recently been adopted in the US. The process of air chilling involves chilling freshly eviscerated chicken carcasses with cold air instead of cold water, which is done in many US facilities today. Air chilling is considered to be more environmentally friendly as it saves water and produces a superior product. It is also more energy efficient and has been improved over time by making the mechanicals more efficient. Bell & Evans will have many advantages by incorporating air chilling into their processes such as the ability to trace individual birds and consumers are willing to pay more for air chilled products.
Cargill
BASF and Cargill are expanding their animal nutrition cooperation by adding the United States to their existing feed enzymes development and distribution agreement. The companies plan to bring enzyme-based solutions to market by combining BASF's enzyme research and development strengths with Cargill's know-how in application and broad market reach. The expanded partnership will form a joint innovation pipeline for animal protein producers. The partnership aims to deliver solutions that address productivity, sustainability and cost challenges for US customers through expanded geographical reach and commercial insights. This partnership builds upon the successful go-to-market collaboration between the companies across other countries. As part of the partnership, BASF and Cargill will co-develop, produce, market, and sell customer-centric enzyme products and solutions.
Danish Crowns
Danish Crown, a European pork processor, announced that it will close its facility near Boizenburg, Germany and move operations to its abattoir in Essen in the next six months. The company cited the need to increase profitability in Germany and the drop in pork production in Germany due to African swine fever as reasons for the decision. Danish Crown is currently in negotiations with management and the work committee at Boizenburg about the conditions for transferring employees to other facilities in the company. Following the negotiations, Danish Crown plans to wind down production in Boizenburg and sell the buildings.
Foster Farms
Foster Farms, a company that produces poultry products, has announced that it will be making a $7,000 donation to Brokers of Hope, a Louisiana-based community organization that provides support and counseling to area residents. The donation will be used to provide assistance to people impacted by a recent tornado. The company has a history of supporting local communities in Louisiana, including providing 80,000 pounds of poultry products to assist families during the COVID-19 pandemic and working with the Louisiana Department of Agriculture to distribute 400,000 pounds of chicken through statewide food banks to families in need. The Brokers of Hope program director, Ragan Haynie, expressed appreciation for the support of Foster Farms, and the company's chief human resource officer, Arturo Towns, emphasized the company's commitment to being a part of the communities where their team members live, particularly in times of trouble.

Join +75 000 subscribers for free now!
OSI
OSI Systems has reported financial results for the second quarter of fiscal year 2023, showing revenues of $295.6 million, a 7% increase from the previous year. The company's CEO, Deepak Chopra, stated that the results were solid despite challenges in the economy, and that the Optoelectronics and Manufacturing division had performed well with robust demand from both existing and new customers. The Security division also showed strong growth with a 15% increase in revenues and record bookings. However, the Healthcare division was negatively impacted by market conditions, leading to lower revenues and operating income. The company expects to improve the division by adding new talent and developing new products. Overall, the company has a significant backlog and pipeline of opportunities, leading to strong growth expectations for the remainder of the fiscal year.
Moy Park
Moy Park, a UK poultry and food producer, has partnered with MTech Systems and SAC Consulting's Agrecalc platform to apply a "carbon calculator" that will monitor and track greenhouse gas emissions at each of its farms. This will aid in the company's goal of reaching net-zero carbon emissions by 2040. The calculator uses digital data systems to connect company-wide carbon reduction targets to action on the ground in real time and farm by farm, and it will help management changes and carbon reduction across the company. Moy Park's parent company, Pilgrim's Pride Corporation, has committed to reaching net zero GHG emissions by 2040, including eliminating deforestation by 2035 and converting to 100% renewable energy by 2040.
Perdue
Perdue Farms has donated $5,000 to Agriculture in the Classroom in Virginia through the Franklin P. and Arthur W. Perdue Foundation. The money will be used to design a poster and produce a video that demonstrate the impact of Virginia's poultry industry and the facts about poultry farming. The donation is part of Perdue's Delivering Hope to Our Neighbors® initiative, which aims to improve the quality of life and build strong communities. The goal of Agriculture in the Classroom is to educate students and the public about the ways their lives are touched by agricultural products and by-products, and to emphasize the impact on the communities where Perdue's employees work and live.
Preval AG
A Quebec-based company, Préval Ag, has made a deal to purchase the Alberta lamb processing plant and feedlot of the North American Lamb Company. Préval Ag is a large player in the meat industry, with annual sales of over $720 million and is known for creating or acquiring brands in the agriculture and livestock industry. The purchase, which is set to be completed on January 27th, is Préval Ag's first in Western Canada. The company's motto is "A food industry at the heart of the consumer." The sale is good news for lamb producers, as the Innisfail processing plant is the only federally inspected plant in Western Canada. The new owners plan to encourage lamb production on the Prairies and it is uncertain whether they will revive the former owners' plan to supply fresh lamb year-round. The North American Lamb Company collapsed last summer and owed nearly $53 million to creditors.
Sysco
Sysco Corporation is expected to have strong financial results for the second quarter of fiscal 2023, with analysts projecting an increase in both revenue and earnings. The consensus estimate for revenue is $18,733 million, a 14.8% increase from the same quarter last year. The estimate for earnings per share is 83 cents, a 45.6% increase from the same quarter last year. However, it should be noted that Sysco has had a mixed track record of meeting or exceeding earnings expectations, with an average surprise of 3.7% over the last four quarters, but a negative 2% surprise in the last reported quarter.
Tyson Foods
Wes Morris has been appointed as the new president of Tyson Foods' poultry business. Morris has over 35 years of experience in the poultry industry and has previously held several leadership positions at Tyson Foods, including group vice president of consumer products, and president of prepared foods operations. He retired from Tyson Foods in 2017 but has since returned to work for the company as a consultant in the poultry business. Morris will be taking over from David Bray, who has been group president of poultry since 2021 and is leaving the company. Morris's appointment is effective January 27th.
Over 1000 free copies downloaded in the first day!
Top 10 Listed Seafood Companies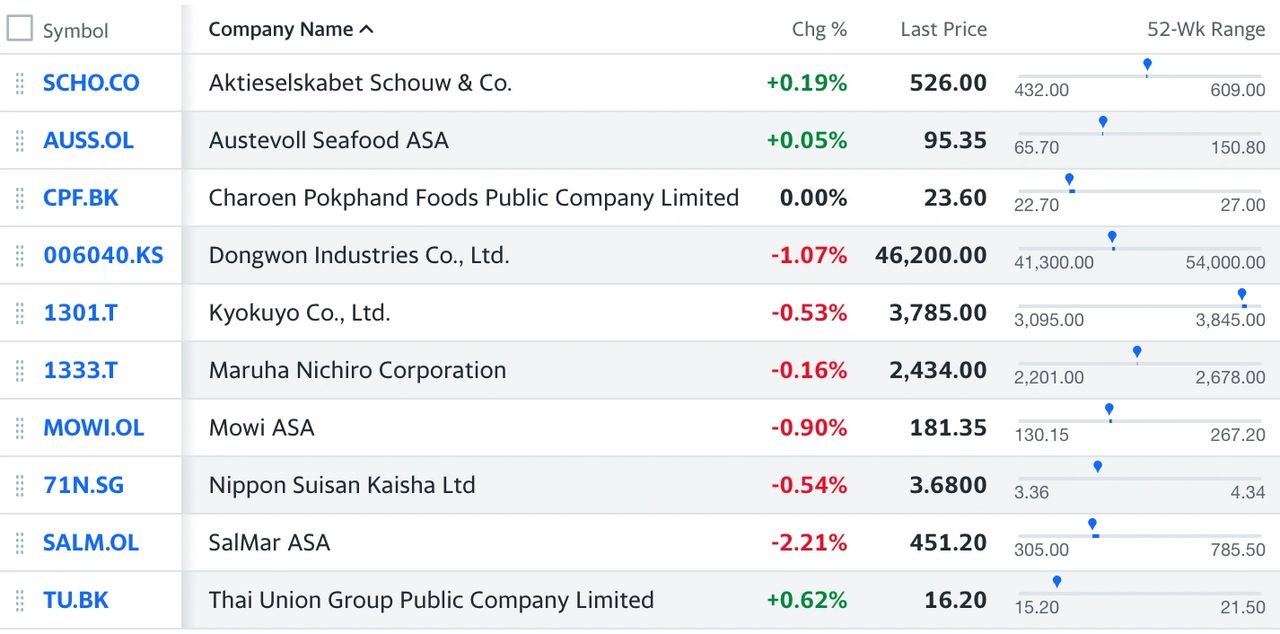 Two trade groups, the At-Sea Processors Association and Pacific Seafood Processors Association, have criticized the rules that allow Russian pollock and other whitefish species processed in China to have unrestricted (bypassing) access to the US market despite the sanctions placed on Russian goods by the Biden administration as a result of the invasion of Ukraine.
Seafood Company News
Mowi
Jan Feenstra, a former executive at Mowi Ireland, has been awarded over £100,000 in a civil case against his former employer over a share scheme dispute. The case was about a share option agreement, which was part of the salary program for the management of Mowi. Feenstra claimed that Mowi did not honor their agreement and demanded compensation, claiming a breach of contract. The Oslo District Court ruled in Feenstra's favor and ordered Mowi to pay £93,000 plus £14,000 to Feenstra. Mowi stated that it will study the judgment before deciding on next steps, which could include an appeal. Feenstra had worked for Mowi for almost 40 years before leaving in December 2021.
Parlevliet & Van der Plas
Dutch giant P&P launches new vessel for German subsidiary Designed by Norwegian naval architect Skipsteknisk, the 'Jan Maria' has been constructed at Turkey's Tersan Shipyard. Dutch fishing giant Parlevliet & Van der Plas has launched a new freezer trawler for its German subsidiary Nordbank Hochseefischerei.
Salmar
The stock price of SalMar ASA has risen significantly over the past five years, increasing by 104%. Additionally, the share price has also gone up by 33% over the last quarter. The company's fundamentals have played a role in driving long-term shareholder returns. Despite the market's positive perception of the company, SalMar's earnings per share (EPS) growth has been relatively low at 0.3% per year, compared to the 15% average annual increase in the share price. This suggests that the market has a higher opinion of the business than it did five years ago, which is not surprising given the company's track record of growth.
Skretting
Skretting and Next Tuna have entered into a cooperation agreement to work together to advance the production of juvenile Atlantic bluefin tuna within aquaculture systems. Next Tuna's goal is to be the first company in the world to successfully complete the reproductive cycle of the Atlantic bluefin in a closed aquaculture system that is commercially viable. To achieve this, they are building a state-of-the-art land-based farm in Spain where they are currently in the permitting process. The two companies will work together to develop dry feed for Atlantic bluefin, with Skretting providing its expertise in aquaculture and feed R&D, as well as its global network of scientific experts and research units. Commercial production is expected to begin in 2024 with full capacity reached by 2028.
Top 10 Listed Logistics Companies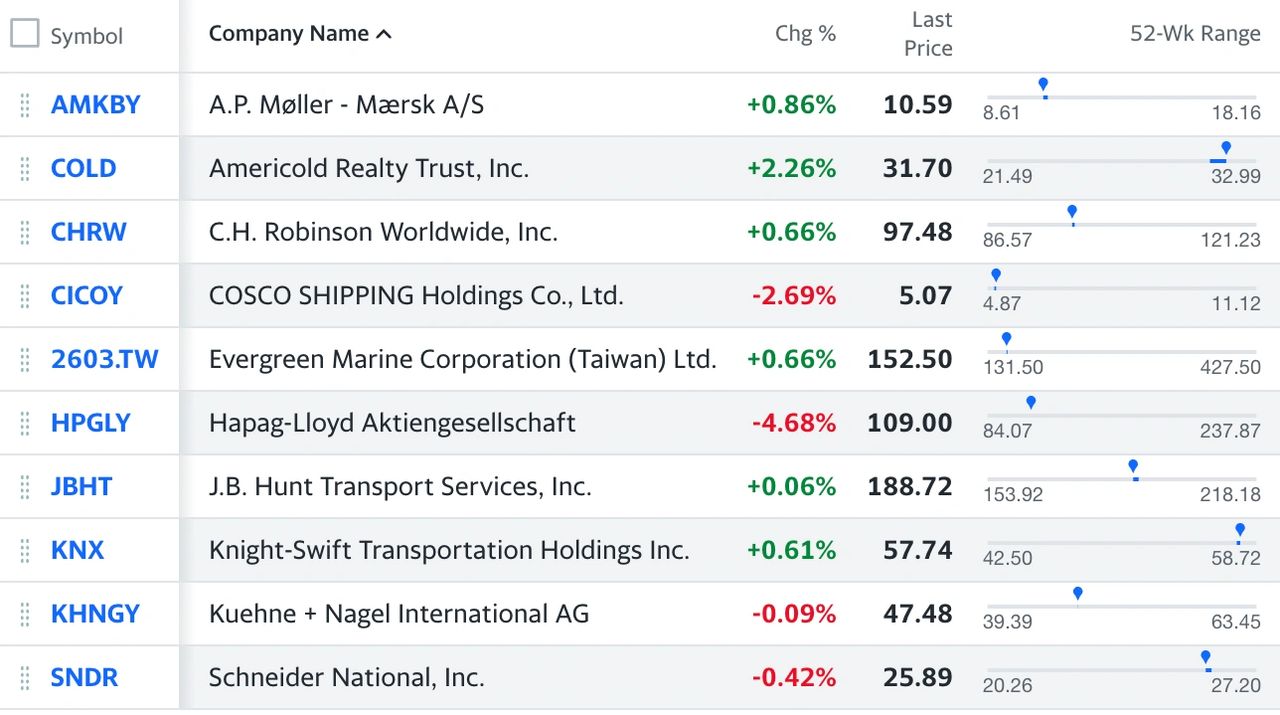 BIFA has expressed support for the Competition & Markets Authority's (CMA) public consultation on a proposed recommendation to the UK government regarding the retained Liner Shipping Consortia Block Exemption Regulation (CBER). The purpose of the consultation is to seek views on whether the UK government should keep a similar block exemption regime for the liner shipping industry… Continue reading.
Chep
CHEP, a leading provider of supply chain solutions, has been recognized as a top employer in India for 2023 by the Top Employers Institute. The organization, which is part of the Brambles Group, was one of only 15 companies to receive the Global Top Employer certification, which is awarded to companies that have exceptional human resources policies and practices. The certification recognizes CHEP's efforts to create a safe, inclusive, and respectful work environment that offers employees a fulfilling experience. The Top Employers Institute program certifies organizations based on the results of their HR Best Practices Survey, which covers six HR domains and 20 topics, including people strategy, work environment, talent acquisition, learning, diversity & inclusion, and wellbeing.
Knight-Swift
Knight-Swift Transportation Holdings Inc. (NYSE:KNX), one of North America's largest and most diversified freight transportation companies, has released its earnings for the quarter ended December 31, 2022. The release is currently available on the Knight-Swift investor relations website: https://investor.knight-swift.com/ and will be filed with the SEC on a Form 8-K.
Maersk
The Chief Operating Officer of Methanol Institute stated that the adoption of methanol as a bunker fuel reached a significant turning point in 2022 due to developments led by shipping company, Maersk. The decision by Maersk to use methanol as a fuel has prompted many competitors to consider it as a bunker fuel. The Methanol Institute is advising shipowners and bunkering firms who are interested in adopting methanol as a fuel. Singapore is expected to be a good location for methanol bunkering operations and The Methanol Institute is working with a class on a potential study for a Singapore port operator targeting methanol bunkering for smaller vessels. The return of shipping rates to pre-Covid levels and the introduction of Carbon Intensity Indicator (CII) requirements is expected to encourage shippers to explore ways to reduce operating costs which will translate into more interest in methanol as a bunker fuel.
Mainfreight
Global logistics operator Mainfreight Poland will become a tenant at the expanding MLP Poznań West logistics park, using nearly 3,200 square meters of space for warehouse purposes. The facility is set to be handed over at the beginning of 2023, with office and social space of nearly 500 square meters to be put into use a few months later. The company, which offers land, air and sea freight forwarding, has been present in Poland since 2004. The MLP Poznań West logistics center will ultimately provide more than 141,000 square meters of warehouse and office space on a 29-hectare site, with new halls featuring an increased height of up to 11.5 meters. It is located near the S11 expressway and 7 km from the junction with the A2 motorway.
Major Currency Pairs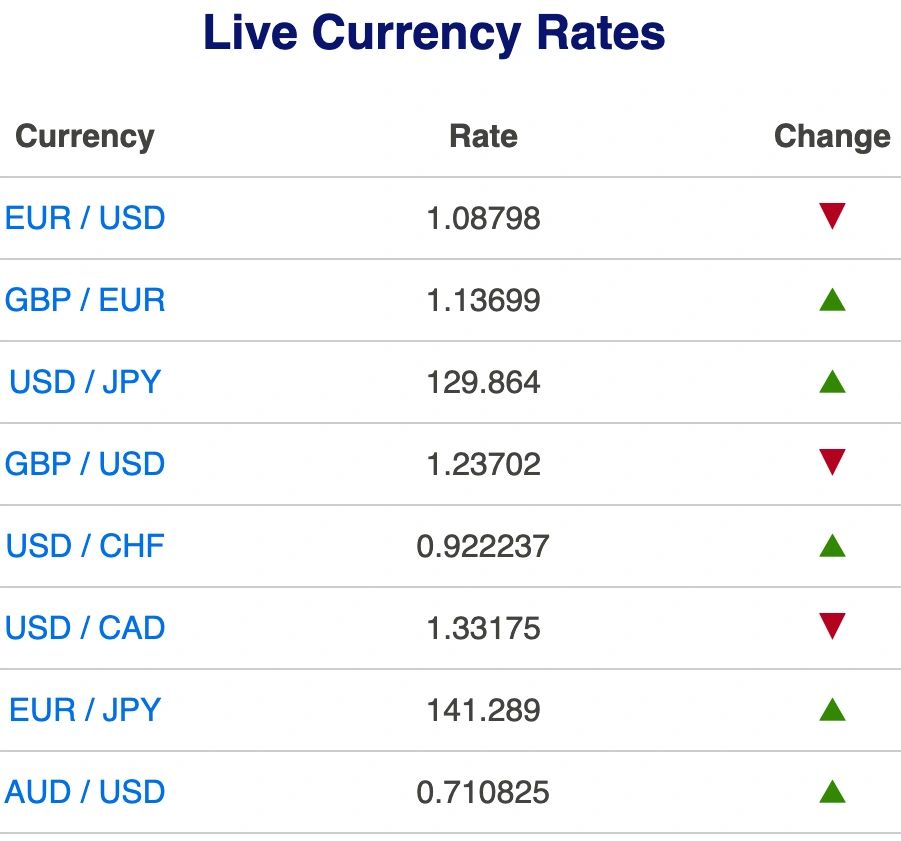 Olivier Blanchard, a former chief economist of the IMF, has criticized the idea of Brazil and Argentina creating a common currency, calling it "insane" on Twitter. Other economists have also expressed doubts about its feasibility, but political analysts point out that the desire of the countries' left-wing leaders to promote regional integration and challenge the US dollar's dominance should not be underestimated. The leaders of Brazil and Argentina are politically aligned for the first time in over 7 years, and have stated that the eventual common currency would only be used in trade and would run alongside the Brazilian real and Argentine peso, rather than replacing them.
In association with iSpring

iSpring is a global leader in creating award-winning software for employee training. For over twenty years, it has been designing eLearning solutions that help individuals, teams, businesses, and educational institutions succeed through training and development. More than 59,000 customers in over 170 countries choose iSpring for its high level of performance and reliability. The customer list includes almost 200 Fortune 500 companies, government agencies, and educational institutions worldwide, some clients being Microsoft, Adidas, Procter & Gamble, Harvard University, and Stanford University.