iSpring's Free Webinar: Do's and Don'ts in Retail Employee Training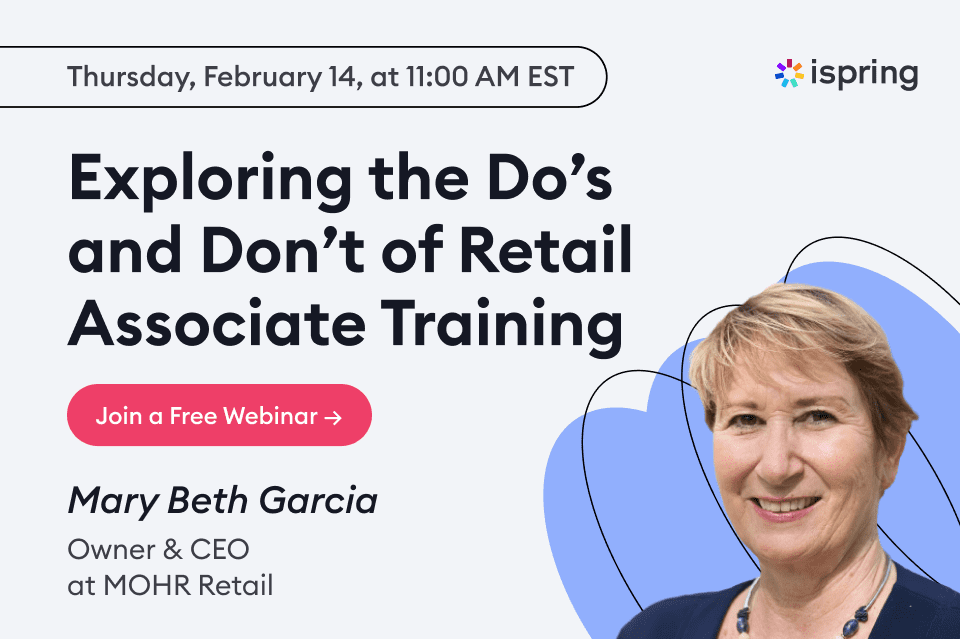 Retail employee training is often a hit-and-miss initiative. To start afresh with it and achieve improved customer service, employee retention, and cost efficiency, join iSpring's free webinar. You'll learn how to avoid possible pitfalls in retail employee training from our experts. Save your seat!
Animal Feed & Energy Future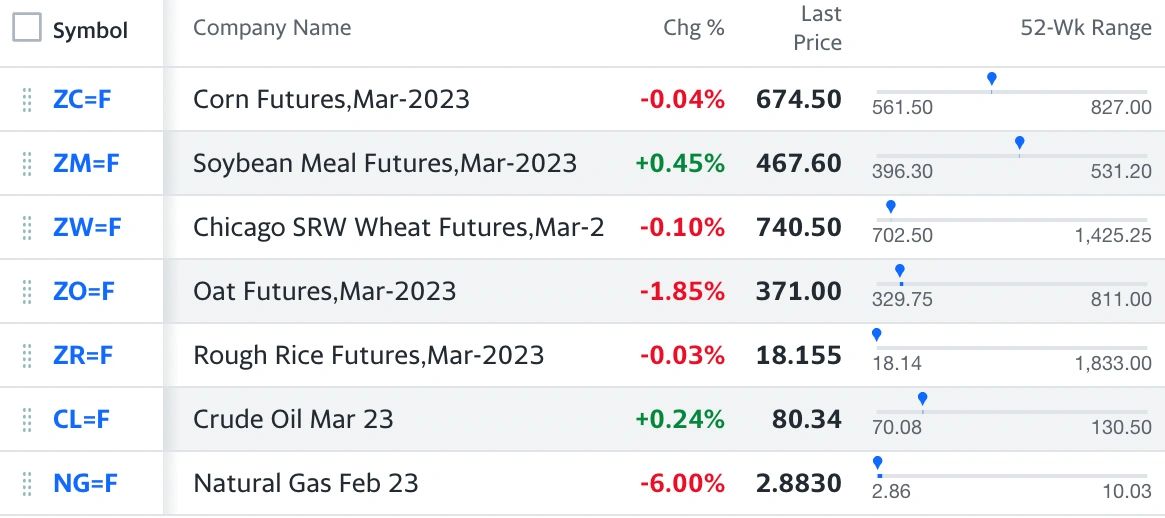 Global feed production remained steady in 2022 at 1.266 billion metric tons, a decrease of less than 0.42% from the previous year. The top 10 feed-producing countries were China, the US, Brazil, India, Mexico, Russia, Spain, Vietnam, Argentina and Germany, with these countries accounting for 64% of global feed production. Read report.
Top 10 Listed Meat Companies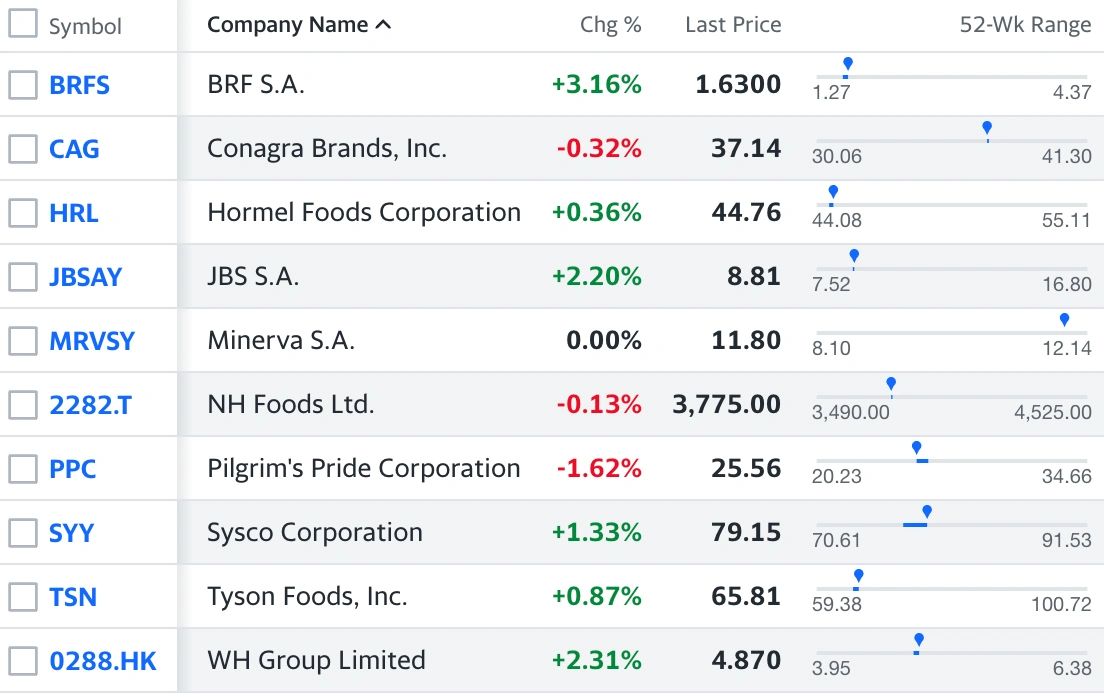 The beef industry in Parana, Brazil is struggling due to higher feed costs, dwindling cattle supplies, weak domestic demand and higher taxes. This has been compounded by the closure of one of the largest beef processing plants in the state, Big Boi, which is shedding hundreds of jobs. Slaughtering volumes have dropped 17% from 835,000 cattle in 2019 to 695,000 in 2021. However, Parana is still a prominent pork and chicken processor. Read article.
Meat Company News
2 Sisters Food Group
Sisters Food Group, the largest poultry supplier in the UK, announced plans to close a poultry processing facility in Wales, citing ongoing challenges facing the food manufacturing industry. The company stated that it will be entering consultations with the 730 employees at the Llangefni factory in Anglesey, Gwynedd, and the workers' union to explore options before making any final decisions about the closure of the site. The company said that the Llangefni factory is not sustainable as it is old, one of its smallest sites, and lacks space to be efficient. The cost to produce there is higher and would require significant investment to bring it up to the standards of their other factories. The company also announced that it incurred GBP12.8m in exceptional costs last year.
Astral Foods
Astral Foods, one of South Africa's largest poultry companies, is forecasting a significant decline in its mid-year profits due to rolling power cuts that have impacted production and increased costs. The company, which processes nearly 6 million chickens per week and accounts for about 25% of the country's broiler meat production, supplies chicken meat to major fast-food brands as well as wholesale and retail outlets. It predicts that its headline earnings per share (HEPS) will drop to R1.42 in the six months to March 2023, compared to R14.20 in the same period the previous year. This decline is largely attributed to disruptions caused by load-shedding from Eskom, the country's power utility, which has led to abnormal additional costs and substantial production cutbacks. These disruptions affect the poultry division's ventilation systems, slaughter schedules, and chicken processing, leading to additional feeding costs.
Conagra
BlackRock Inc. has reported an increase in their ownership of ConAgra Foods Inc. shares in a filing with the SEC, now holding 9.4% of the company, which is a 2.2% increase from their previous filing. Additionally, analysts have forecasted a potential increase of 13.55% in ConAgra's stock price, with a projected annual revenue growth of 2.21% and EPS growth of 74.60%.
There has been a 2.70% increase in the number of funds and institutions reporting positions in ConAgra Foods, Inc. On average, these funds allocate 0.2591% of their portfolio to the company, which is a decrease of 0.8467% from the previous quarter. The total shares owned by institutions also decreased by 0.97% to 447,043,220 shares. Three large shareholders, Price T Rowe Associates Inc, Macquarie Group Ltd, and American Century Companies Inc, have all decreased their ownership in the company over the last quarter.
Capital World Investors and Invesco Ltd. have also decreased their ownership in the company, by 90.04% and 2.15% respectively. ConAgra Foods has declared a regular quarterly dividend of $0.33 per share, with a yield of 3.53% and a payout ratio of 0.92. The company has also consistently increased its dividends over the last three years, with a growth rate of 0.55%. Shareholders of record as of January 27, 2023 will receive the payment on March 2, 2023.
Danish Crown
Danish Crown, a leading meat supplier, has announced that it is adjusting its approach to the German market with the goal of improving earnings. The company will be closing a deboning facility located in Boizenburg, east of Hamburg, so that all slaughtering and deboning can be done at the group's German abattoir in Essen. This is due to declining numbers of slaughtered animals and decreasing consumption of pork in Germany. The Boizenburg facility has been operating for almost 20 years, but within the next six months, a large part of its activities will be transferred to Danish Crown's abattoir in Essen. The more than 200 employees at the Boizenburg facility will be offered work at other facilities in the Danish Crown group, but if they don't accept the offer, management is negotiating with the facility's work committee about other options. After the negotiations are complete, the company will draw up a plan for the winding down of production in Boizenburg and the sale of the buildings.
Foster Farms
Foster Farms will be making a $7,000 donation to Brokers of Hope, a community-based organization in Farmerville, Louisiana that provides support, counseling, and advocacy for area residents. The donation will go towards a fund established to provide assistance to people impacted by a recent tornado. The donation was made possible by matching team member cash donations. Foster Farms has a history of supporting local communities in Louisiana, having previously donated 80,000 pounds of poultry products to assist families in Union Parish during the COVID-19 pandemic and working with the Louisiana Department of Agriculture and Forestry to distribute 400,000 pounds of chicken through statewide food banks to families in need. According to Arturo Towns, the Chief Human Resource Officer of Foster Farms, the company believes in being a part of the communities where its team members live and has a responsibility to provide assistance in times of trouble.
Foster Farms and Union Pacific Corp. announced that enough corn shipments have been made to replenish feed stocks after delayed trains in recent months caused inventories to drop to critical levels. The US Surface Transportation Board had ordered Union Pacific to provide trains loaded with corn on Dec. 30 after the poultry farm warned about running out of feed for its chickens and its customers' dairy cattle. Six trains loaded with corn have been delivered since the board's action, and Foster Farms said in a statement that its grain inventories are currently at levels that enable them to meet the nutritional requirements of all flocks in their care and that bird health is not at risk. Union Pacific said in a separate statement that it has worked closely with Foster Farms to implement a service plan while providing service updates and information "regarding weather challenges severely impacting our network and future deliveries."
Moy Park
Moy Park, a poultry supplier, has expanded its partnership with Asda Northern Ireland by adding nine new breaded chicken lines to the stores' offerings. The new products include Garlic & Herb Kievs, Tempura Mini Fillets, Hot and Spicy Mini Fillets, Homestyle Mini Fillets, Nuggets, Goujons, Creamy Garlic Kievs, and Cheese & Bacon Kievs. Two more products, Buttermilk Chicken Burgers and Ultimate Kievs, are set to be introduced in March. The partnership between the two companies has grown since the introduction of several added value chicken products in April 2021. The new products are available in all Asda stores in Northern Ireland.
Peco Foods
Peco Foods, one of the leading poultry companies in the US, announced the addition of Kevin Phillips to its leadership team as Corporate Director of Sales and Marketing – Commodity. In this role, Phillips will oversee Peco's commodity business and assist in the development and implementation of overall sales and marketing strategies. He will be taking over the responsibilities of Bobby Wilburn, who is transitioning towards retirement after giving more than 40 years of service to the company. Phillips has over two decades of experience in the poultry industry and has held various leadership positions, including Chairman of the National Chicken Council Marketing Committee, a U.S. Poultry & Egg Association board member and a USAPEEC board member. He will also serve as a Chick-fil-A sales team leader to help Peco meet the needs of this strategic account.
Perdue
US-based fresh chicken brand Perdue has launched two new items: Perdue Flavor-Infused Chicken and Perdue Chicken Plus Snackers. These products were developed as part of his Perdue's ongoing commitment to providing innovative, tastier, higher quality meal and snack options. Ready-to-eat flavor-infused chicken is natural, minimally processed, and free of artificial ingredients. There are three flavors of chicken: sesame ginger, green chili, and Greek. Even our bite-sized Chicken Plus Snacks are natural, minimally processed, and contain no artificial ingredients. Available in pizza, barbecue, and firecracker flavors, snacks include veggies and 9g of protein. Items are available from major US retailers including Kroger, Shoprite, Safeway and Meijer.
Smithfield Farms
Efforts to ban foreign companies from owning farmland in Missouri are facing resistance from major industry groups. The Missouri Association of Realtors and the Missouri Chamber of Commerce and Industry have publicly stated their opposition to the Republican-proposed legislation during a hearing on Tuesday. The legislation, which includes three Senate bills, aims to restrict foreign ownership of Missouri agricultural land for reasons of food security and national security.
Sysco
Sysco Great Britain has chosen Andy Pembroke as the new managing director of Fresh Direct, a food service fresh produce wholesaler. Peter Jackson, CEO of Sysco in Great Britain, said that having Andy lead Fresh Direct is the perfect fit to guide the company in its next stage of development as fresh produce, meat and fish are crucial to their customers' menus. Pembroke has been with Fresh Direct for over a decade, holding senior roles in supply chain and manufacturing and most recently as the sales director. He has been recognized for creating a more customer-centered approach and helping customers navigate the challenges of the pandemic, Brexit, and cost of living. Pembroke plans to continue to innovate Fresh Direct's fresh offering to customers with an emphasis on customer satisfaction and working with selected partnership suppliers to deliver quality products from Britain and beyond.
Tyson Foods
John R. Tyson, the Chief Financial Officer of Tyson Foods Inc, has pleaded guilty to charges of trespassing and public intoxication. He was arrested in November for falling asleep in someone else's home while under the influence of alcohol. Tyson has agreed to pay a fine of $150 for each charge. In December, the company's board of directors expressed confidence in Tyson despite the charges. He has been with the company since 2019 and has prior experience in investment banking, private equity, and venture capital.
BlackRock Inc. has increased its stake in Tyson Foods, Inc. (TSN) to 8.7% according to a 13G/A form filed with the SEC. This represents an increase in shares of 20.57% and 1.60% in total ownership since their previous filing on February 1, 2022. The average one-year price target for Tyson Foods is $77.29, which represents a potential 18.48% increase from its last closing price of $65.24. The company reported projected annual revenue of $55,465MM, an increase of 4.10% and a projected annual EPS of $6.54, a decrease of -41.68%. There are 1714 funds or institutions that have reported positions in Tyson Foods, Inc, a decrease of 2.94%. The ownership of the company has decreased in the last three months by 0.48% to 271,263,315 shares. Tyson Foods has also recently declared a $0.48 dividend per share, with a 2.94% yield, and a dividend payout ratio of 0.21.
Tyson Foods announced on January 24 that it will invest more than $20 million in the Newbern, Tennessee community. The project includes expansions to production capabilities, the construction of an independent roadway for production transportation and a wellness center. The first phase of the project began in April 2021, with a 21,000-square-foot expansion to an existing barn facility, for a total of 60,625 square feet. This expansion will provide a 20% increase in capacity at the facility, which employs more than 600 workers. The final two phases of the project are expected to be completed by early 2023, which include a new independent roadway for transporting livestock and a new well-being building for employees. This is in addition to two other major poultry projects that Tyson Foods has completed in Tennessee in recent years.
West Liberty Foods
West Liberty Foods and Vertical Cold Storage announced a partnership to build a 327,000 square foot food processing center and supporting cold storage facility in Kansas City, Missouri. The two companies will invest a combined $199.6 million in the project, which will create 583 jobs and generate $39.7 million in payroll. The food processing center and cold storage facility will support the production of grab-and-go sandwiches and be located at the I-49 Industrial Center within the 49 Crossing industrial zone. West Liberty Foods produces nearly 650 million pounds of food product each year for grocery stores and restaurants across the United States and has facilities in Iowa, Utah and Illinois. This will be their first expansion into Missouri. Vertical Cold Storage provides comprehensive cold storage services for frozen and refrigerated foods nationwide and this will be the company's sixth location.
Top 10 Listed Seafood Companies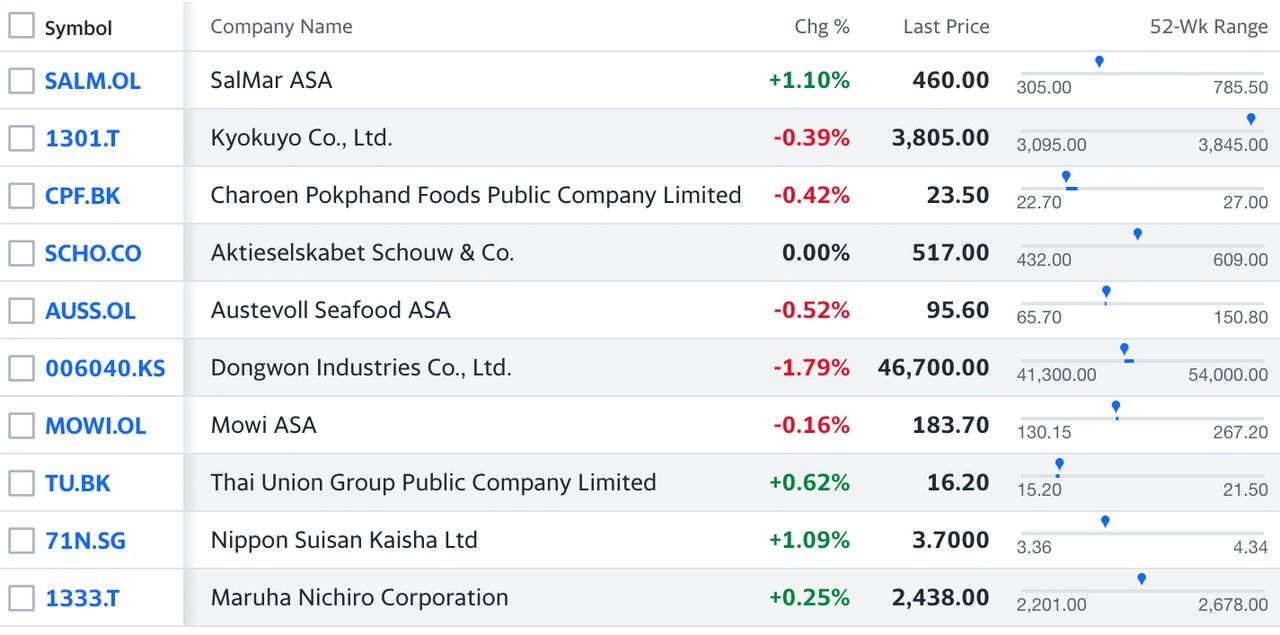 The Global Seafood Alliance (GSA) will be changing the name of its conference from GOAL to The Responsible Seafood Summit. The conference mission is to promote responsible seafood production and bring together industry leaders. The location in Atlantic Canada represents a science-based and collaborative approach to sustainable seafood production.
Seafood Company News
Charoen Pokhand
Charoen Pokphand Foods (CP Foods), a major Thai agribusiness company, has eliminated the use of coal power in its domestic operations, laying the foundation for further reductions in emissions at its overseas farms and food processing plants. The company has also taken steps to protect itself from rising energy costs and potential future European carbon tariffs. The company says it has stopped buying coal, which it previously spent around $10.5m per year on. Renewable energy from biomass and solar power made up 30% of CP Foods' energy use last year, while fossil fuels like oil and natural gas accounted for 26%. The company also plans to use blockchain technology to integrate emissions tracking into its supply chain database, with the goal of achieving zero net carbon emissions by 2050.
MOWI
Mowi, the world's largest producer of Atlantic salmon, is reporting difficulties at its Irish farm sites in its recent trading update. The company harvested 500 tonnes of salmon in Ireland in the fourth quarter of 2022, which is a decrease of 1,500 tonnes compared to the same period in 2023. This decrease is due to "challenging biology" and lower biomass. This has resulted in an operational loss of €5 million. A spokesman for Mowi said that the high sea temperatures and naturally occurring phytoplankton and zooplankton blooms in the summer and autumn of 2022 impacted the growth of the fish, which led to a shortage of organic salmon of Irish origin. Despite this, Mowi's full-year harvest volumes reached 464,000 tonnes, and its EBIT for 2022 was over €1 billion.
Thai Union Food Group
ISH Company, a plant-based seafood alternative startup part of Thai Union, has raised over $5 million in a seed round to support its growth and development. The round was led by ACCELR8 and included participation from Stray Dog Capital and other angel investors. To date, ISH has raised a total of almost $10 million. The company's flagship product is Shrimpish, a plant-based shrimp, and it has over 25 other products in development, including alternatives to salmon, cod, crab, and lobster. The company's products are currently available at various restaurants, colleges, and universities. The funding news follows ISH's B Corp certification and a partnership with Thai Union, one of the world's largest seafood companies.
Skretting
Global aquafeed producer Skretting has partnered with German startup Next Tuna to become the world's first to break beyond the $40 billion wild-caught global tuna market by growing Atlantic bluefin entirely in a closed, recirculating aquaculture system that scaling capabilities.
Trident Seafoods
Trident Seafoods, a company based in Seattle, has been fined $25,000 by the Washington Department of Ecology for a hydraulic oil spill that occurred last year. The spill was caused by a fire on one of Trident's processors, the Aleutian Falcon, which damaged a crane's hydraulic hoses and released an estimated 20-30 gallons of oil mixed with firefighting water into the Tacoma Hylebos Waterway. The department found that the extent of the repair work was not effectively communicated among workers, supervisors, and officials prior to the incident.
Top 10 Listed Logistics Companies
The shipping industry has started the year on a low note with spot rates down. The decline is being attributed to an earlier than usual Lunar New Year holiday and the effect of China's new COVID-19 policy. However, China's reopening should reverse that. Dry bulk is currently at a 41% decline since the beginning of 2022 and 87% decline since its peak in October 2021.
Golden Trust Trading
A Canadian company, Golden Trust Trading, has been ordered to pay an international shipping company $4.3 million Canadian dollars in a court case over plastics shipments rejected by the Thai government. The shipping giant, Hapag-Lloyd Aktiengesellschaft, took legal action against Golden Trust in March 2022, claiming that it had transported 33 containers of PET, PP and PVC film bales from Vancouver to Bangkok in spring 2019 which were rejected by the Thai government. According to court documents, Golden Trust contracted with Hapag-Lloyd to ship the containers but due to a change in Thailand's environmental import standards, the contents of the containers were rejected once they arrived. Hapag-Lloyd claimed that the containers remained in the port unclaimed for 782 days, racking up fees, until the company was able to re-export 30 of the 33 containers.
J. B. Hunt
J.B. Hunt Transport Services Inc., a leading supply chain solutions provider in North America, has announced that its subsidiary J.B. Hunt Transport Inc. will be giving out appreciation bonuses to full-time company drivers and full-time hourly maintenance and office employees for the second consecutive year. The total amount awarded will be over $8.8 million. The company is recognizing the contributions of these employees to the company's success and thanking them for their continued dedication and commitment to excellence. To be eligible for the bonus, employees must have been hired on or before January 1, 2022, be a full-time employee, and be employed on the payment date. The company had also awarded over $900,000 in safe driver bonuses as part of its Million Mile safety recognition program in April 2022.
Knight Swift Transport
The latest quarterly earnings report for Knight-Swift Transportation (NYSE: KNX) was released on Wednesday, October 19, and the company announced the results. The transportation company's earnings per share for the quarter came in at $1.27, which was $0.06 less than the consensus estimate of $1.33 among financial analysts. The consensus estimate for the previous quarter was $1.33. The return on equity for Knight-Swift Transportation was 13.98%, while the company's net margin was 11.69%. Knight-Swift Transportation The company's quarterly revenues came in at $1.90 billion, which was higher than the analysts' average estimate of $1.89 billion for the revenue generated during the quarter. During the same period the previous year, the corporation generated a profit of $1.30 on each share of common stock that it held. In the most recent accounting period for the company, annual revenue growth came in at 15.5% higher than the previous period. Analysts anticipate that Knight-Swift Transportation Holdings Inc. will generate earnings of $5.17 per share in 2018, and they have based their projections on historical data. The company announced a quarterly dividend, which was ultimately paid out the following week on Tuesday, December 27.
Maersk & MSC
In a joint statement, the CEOs of A. P. Moller – Maersk and MSC announced that they have decided to discontinue the 2M alliance, a container shipping line vessel sharing agreement that was introduced in 2015 with the goal of ensuring competitive and efficient operations on the Asia-Europe, Transatlantic and Transpacific trades. The CEOs stated that discontinuing the 2M alliance allows both companies to pursue their individual strategies. They emphasized that the decision has no immediate impact on the services provided to customers and that each company's customer teams will communicate with their respective clients to support them during and after the phase-out of the 2M alliance.
Blue Water Shipping
Kurt Skov, the founder of Blue Water Shipping, has announced that he will be stepping down as chairman of the operational board for the company and will be replaced by Jørgen Wisborg. Skov has been with the company for over 50 years and has served as CEO for more than four decades before becoming chairman. He has decided to slow down his work activities in order to make way for the new chairman. Jørgen Wisborg has been chosen for the job and has a background in managing director for the Danish energy company OK. He also holds several seats on boards in different companies. Skov will continue to serve as a board member after Wisborg takes over as chairman.
Major Currency Pairs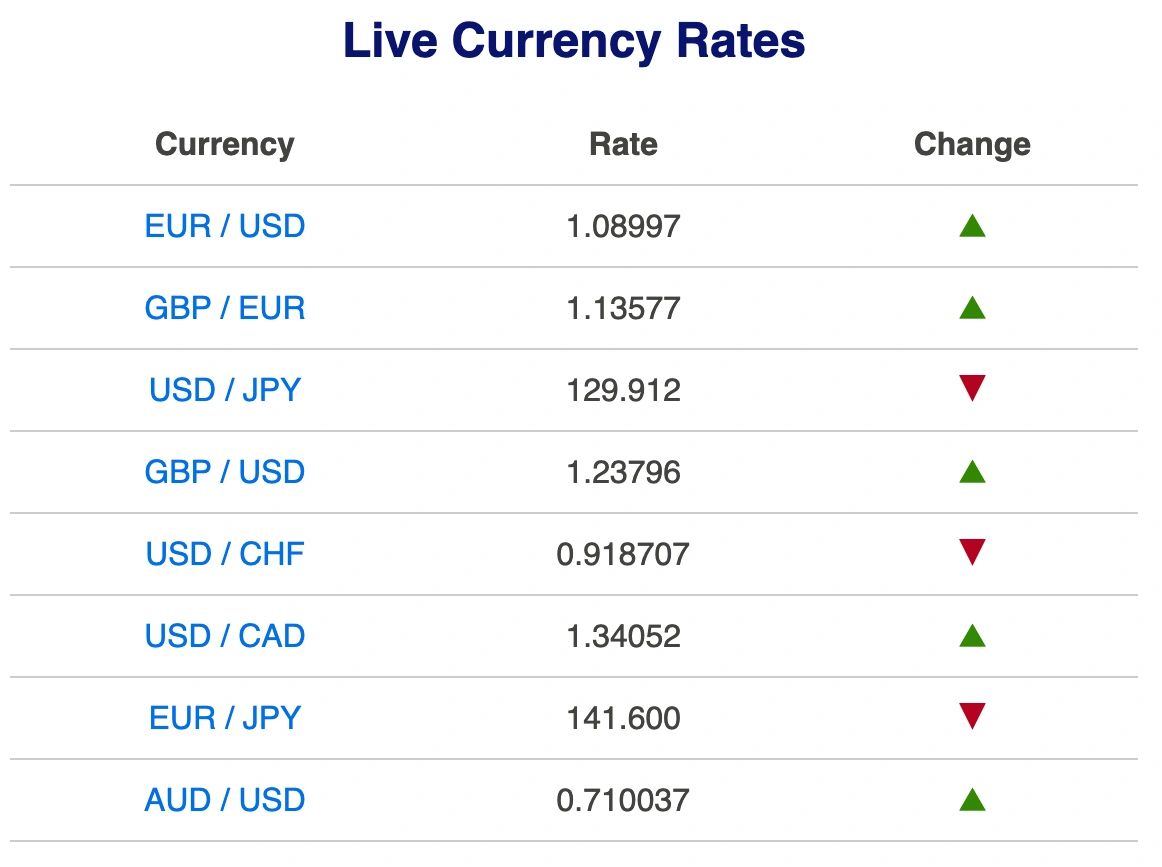 Sri Lanka's economic collapse is ringing alarm bells for emerging markets. There is an extraordinary amount of money of distressed assets trading a higher amounts than years ago. Global macroeconomic headwinds such as tourism shutdowns, corruption, and high debt burdens as reasons for Sri Lanka's economic crisis. Sri Lanka is not the only country in trouble, and that El Salvador, Ghana, Tunisia, Egypt, and even Pakistan are also potentially at risk of default. Will there countries confront China on its lending practices at the upcoming G20 Leaders' Summit in Indonesia?
In association with iSpring

iSpring is a global leader in creating award-winning software for employee training. For over twenty years, it has been designing eLearning solutions that help individuals, teams, businesses, and educational institutions succeed through training and development. More than 59,000 customers in over 170 countries choose iSpring for its high level of performance and reliability. The customer list includes almost 200 Fortune 500 companies, government agencies, and educational institutions worldwide, some clients being Microsoft, Adidas, Procter & Gamble, Harvard University, and Stanford University.