The Brazilian Animal Protein Association (ABPA) announced that chicken exports increased 7.8%, from 1.846 million tons to 1,990 million tons, in the January-May period this year compared to the same period in 2021. For the first five months of the year, sales came in at $3.776 billion, 33.6% higher than the revenue recorded last year, $2.826 billion. "The global inflation scenario, high production costs and strong demand for chicken meat have driven average international prices above $2,000 per ton," said ABPA President Ricardo Santin.
Poultry exports in May
In May, Brazil shipped 429,600 tons, exceeding 3.7% of total shipments in the same period last year (414.3 thousand tons). With this result, the sector posted revenue of $904.6 million, up 37.8% from May 2021 ($656.3 million).
Main destinations for May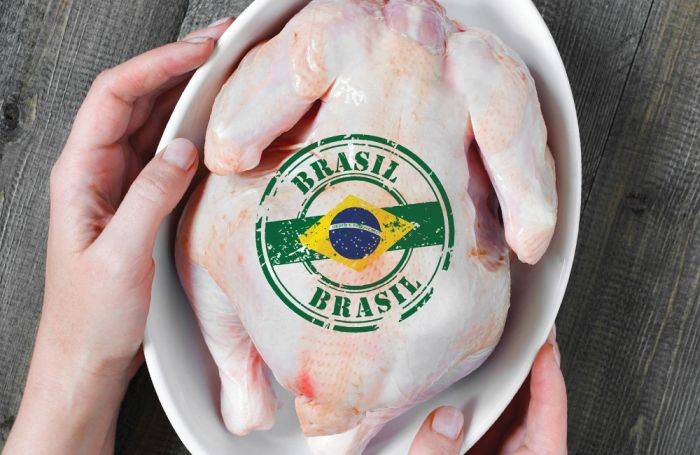 Main destinations for May
China: 50.200 tonnes (-8.8%), UAE: 44.800 tonnes (+73.2%), Japan: 33.100 tonnes (+3.2%)
EU: 26.300 tons (+80.7%).
Poultry slaughter down
Brazilian Institute of Geography and Statistics (IBGE) revealed, in June, that Brazilian chicken slaughter fell by 1.7% between January and March 2022 compared same period last year and 0.2% in relation to the previous quarter.
The Livestock Production Statistics also informed total processed reached 1.55 billion heads of chickens, which represents 27.25 million less than in the first quarter of last year.
The drop in slaughter was recorded in 17 of the 25 federation units surveyed by the IBGE. The poultry leader state in Brazil continues to be Paraná, which has 33.5% of the national share, followed by Rio Grande do Sul (13.5%) and Santa Catarina (13.2%).
Consequently, the South region responded for 60.2% in the period, followed by Southeast (19,2%), Centre-west (14,7%), Northeast (4,3%) and North (1,6%). The South Region is also the main exporting region with 78.8% of Brazil's entire exportation in that period.
Eggs
Chicken egg production reached 977.20 million dozens in 2022 first quarter, 2% less year-on-year and 2.5% down in comparison to the previous quarter. It means 19.6 million fewer eggs produced in the country, with drops in 15 of the 26 units of the federation.
However, IBGE points out that, even with the downturn, this is the second best result for egg during a first quarter since the beginning of the historical series, which began in 1987.
Also read: Poultry trends 2023 for US poultry farmers
Source: Poultry World